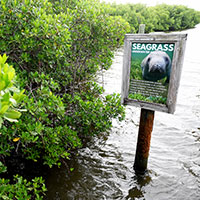 County pushing back on $134 million in state-mandated lagoon cleanup costs
STORY BY SUE COCKING (Week of March 18, 2021)

The county is looking at being required to spend $134 million on lagoon cleanup – more than twice the $60 million it had anticipated – after the Florida Department of Environmental Protection revised its lagoon repair plan last month.
Commissioners at a meeting two weeks ago voted 4-1 to continue talks with FDEP aimed at reducing the county's costs, with Commissioner Peter O'Bryan favoring more aggressive action such as filing a legal objection.
The county had been given a deadline of March 16 to challenge the FDEP's new Basin Management Action Plan for cleaning up the central lagoon over the next five years. Commissioners sought an extension to negotiate further with the agency, arguing that its pollution modeling is wrong and its targets unrealistic.
The DEP plan, adopted in February, tasks the county with undertaking projects to reduce lagoon discharges of the nutrient nitrogen by more than 70 percent and phosphorus by 61 percent. Those pollutants – which come mostly from fertilizer used on farms, golf courses and lawns, treated wastewater, stormwater and septic systems – are the main culprits in harmful algae blooms that smother seagrass and kill fish and other marine life.
County officials say they have no problem with cleaning up their portion of the lagoon, but they contend that faulty calculations by the state agency will more than double the originally anticipated cost of about $60 million.
"An unreachable goal. Not real happy with it," commissioner Joe Earman said.
At issue is a new model being used here by FDEP for the first time to calculate pollution loads in the lagoon and determine how much they should be reduced in order to restore seagrass coverage to historically healthy levels. 
County public works director Rich Szpyrka said the new FDEP model is based on conditions in Brevard County and not calibrated for Indian River's portion of the estuary. He characterizes the model as being full of discrepancies and inconsistencies.
Szpyrka, who has sent several letters of objection to the state agency, said FDEP has been willing to discuss the situation, but so far has declined to recalibrate the model.
"We requested DEP [adjust] ... the model," Szpyrka told commissioners last week. "It wasn't sitting right with us. We were looking at a model developed for Brevard."