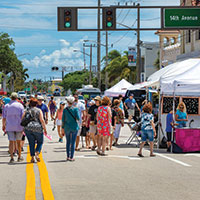 Downtown Fridays: Another step on road back
STORY BY STEPHANIE LABAFF (Week of March 25, 2021)

Another mainstay of Vero small town life is making a welcome return this week after a long pandemic shutdown as the monthly street fair on 14th Avenue known as Downtown Fridays resumes at 5:45 p.m., with food, drinks, music and vendors.
The downtown art gallery and dining district has survived the pandemic mostly intact, according to Susan Gromis, executive director of Main Street Vero Beach, which puts on the street fair.
"We had a few closures along 14th Avenue, but we had new businesses coming in too. And a couple that did close had already been talking about closing before COVID," said Gromis, who says she has seen a visible uptick in foot traffic along Main Street in recent weeks.
The first Downtown Friday in many months comes in the wake of a successful First Friday Gallery Stroll in March. "We had over 100 people come through during the recent March stroll," which is only 50 fewer than pre-COVID, Gromis reports.
If you decide to head out to the downtown street fair this Friday, you'll find things much the same as in the past, but with fewer vendors and food trucks to allow for more social distancing.
"If you're ready to come out, we're ready to have you here," says Gromis. "If you don't think it's time for you, please wait. We're planning on having events throughout the rest of the year. So, when you feel comfortable coming out, we'll be here for you."
Meanwhile, the Oceanside Business Association, the island's version of MSVB, is holding off on restarting its signature Sunset Saturday open-air concerts.
The association reopened its beachside farmers market months ago, and that has been thriving on Saturday mornings.  But the group plans to wait until October when most people will have been vaccinated to bring back the sunset concerts.
The group also plans to hold off on The Taste of Vero, a popular summer culinary event that typically sells out in days, until more people have been vaccinated and restaurants are ready, willing and able to serve up samples of their specialties, according to Al Benkert, OBA treasurer and vice president of events.