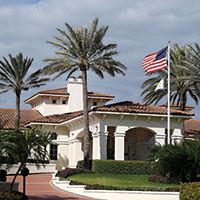 Grand Harbor: A tangible sense of resurgence and community pride
STORY BY RAY MCNULTY (Week of March 11, 2021)

Grand Harbor members are feeling good about the future of their club.
Just three and a half months after negotiating the purchase of the country club's facilities and the takeover of its operations from New York-based Icahn Enterprises, there is a tangible sense of resurgence and community pride.
"There's a real renaissance going on here," newly hired General Manager Michael Gibson said last week. "It's too bad the members had to go through what they went through, but that's all in the past now. We're changing the culture, changing attitudes and moving forward with our vision.
"This is a wonderful community with outstanding amenities and a bunch of people who want to make Grand Harbor great again."
Gibson, who was hired to replace Icahn's Chris Hull when the members took control of the club on Dec. 1, previously worked as the GM at the Old Marsh Club in Palm Beach Gardens and Boca Grove Golf & Tennis Club in Boca Raton prior to holding the same position at The Golf Club at Turner Hill in Ipswich, Mass.
"I've been in the club business a long time, worked at premier clubs and, here in Vero Beach, we're in the premier club world," Gibson said. "That's what we're going to establish here.
"We're off to a good start, and while we're not going to fix everything in three months ... we've identified the steps that need to be taken to get where we want to be.
"Sure, we'll have challenges, but we feel really good about our vision, and the future is very bright."
Already Gibson has reopened all the club's facilities, assembled a new management team, rehired more than 80 well-liked previous staff members and opened a popular, new outdoor café called Spoonbill's behind the clubhouse, near the practice putting green.
Members say the café, where musical entertainment is provided at least twice per week, often draws more than 100 people.
"Spoonbill's has been a big hit with the members, especially since it's outdoors and most of us have gotten our COVID vaccinations," said Doug Sweeny, former president of the Grand Harbor Members Association, which negotiated the membership purchase with Icahn Enterprises.
The members, meanwhile, have elected a new, nine-member Board of Governors and formed nine new committees to address the club's needs and members' concerns.
Among those committees is one focused on growing the club's membership, which Sweeny said dropped from 700 to fewer than 600 prior to the members' takeover – many of the golfers and tennis players joined other local clubs – but is now up to about 625.
"We hit bottom at 581," Sweeny said. "When we took over, though, 20 came back right away," Sweeny said. "The next month, another 20 came back. And we expect more to come back as we go along.
"But we'd like to bring in new members, too, and the membership committee is working on that."
The 900-acre Grand Harbor development is one of the largest and most popular country-club communities in the Vero Beach area. It's mainland footprint includes extensive lagoon-front property, two golf courses, a 32,000-square-foot clubhouse, a 12-court tennis complex, and a picturesque marina with more than 100 slips. On the island, it has a beach club with an Olympic-size pool and beachside dining.
Currently, however, only 40 percent to 50 percent of Grand Harbor residents are club members, and the membership committee wants that percentage to increase. It also would like to attract younger members and plans to offer memberships tailored to meet their needs and desires.
"Other clubs have gone in that direction, too," Sweeny said.
The committee plans to invest in marketing the club – perhaps offering "associate memberships" – to non-residents, Sweeny said, particularly those who live in nearby communities, such as Riverwind, The Antilles and Waterway Village.
The committee also has had conversations about memberships with new home developers on the barrier island, Sweeny said.
"We've offered non-resident memberships in the past," he said, "but we really weren't very proactive in marketing them and they weren't well-publicized."
In addition, the committee hopes that 200 residential lots inside Grand Harbor's gates and a planned 900-home, environmentally innovative subdivision known as Spoonbill Reserve just north of Grand Harbor will bring new members as homes are built and sold.
In a touch of irony, those properties are owned by a subsidiary of billionaire Carl Icahn's Icahn Enterprises, the Grand Harbor club's previous owner and the target of so much criticism from members.
The dispute between members and the prior management dates back to at least 2017, when members complained about the club's staff turnover, cancellation of summer-reciprocal agreements with other local clubs, halting of golf-course improvements and failure to follow through on other promised enhancements.
Starting late 2019 and continuing through last year, the relationship went south in a big way, prompting members to embark on negotiations to purchase the club.
Management's decision to shut down all facilities when the pandemic reached Florida last March – and then to keep them closed, even when other local clubs began reopening later in the spring – made a bad situation worse.
The sometimes-bitter negotiations included threats of litigation and dragged on for a year. It wasn't until last fall that the parties reached an agreement and members overwhelmingly approved the purchase transaction.
Despite some early concerns, Sweeny said Icahn Enterprises did not saddle Grand Harbor members with any undisclosed long-term debt, financial obligations or hidden environmental issues.
"We weren't sure if we could trust them," Sweeny said, "but pretty much everything they said turned out to be true."
Gibson said he feels "very good" about Grand Harbor's financial future, which he expects to improve as membership grows. He said he will announce planned improvements, especially to the club's golf courses, in the coming weeks.
"I wish I could say I showed up, hit the switch and turned on the lights," Gibson said. "But a lot of people, especially those who worked through the process to get control of the club, helped make this happen.
"Now, with the right strategic planning, member support and financial backing, Grand Harbor's future promises to be nothing but positive.
"It's an exciting time to be here."