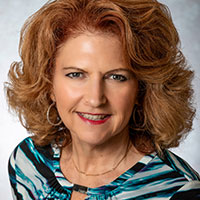 Kerry Bartlett appointed to replace Tracey Zudans on Hospital District
STORY BY MICHELLE GENZ (Week of March 25, 2021)
Photo: Kerry Bartlett to replace Tracey Zudans on the Indian River County Hospital District Board.

Kerry Bartlett, a consultant on philanthropy and prominent figure in the local nonprofit realm, has been named by Gov. Ron DeSantis to replace Tracey Zudans on the Indian River County Hospital District Board.
Bartlett brings significant experience in the nonprofit world to the seven-member volunteer board. She was the first executive director of the Indian River Community Foundation and has held development posts with the VNA of the Treasure Coast and the United Way of Indian River County.
A certified fundraising executive with a degree from the University of Florida, she maintains her own philanthropy consulting firm while part of the Vero-based consultancy, Carter.
"She's got a tremendous amount of experience in the community in fund-raising and development strategies," said Ann Marie McCrystal, a District Board trustee who worked with Bartlett when both were at the VNA, where McCrystal served as chairman of the VNA's foundation for many years.
"Kerry is a true professional because she's educated herself in the field ... and knows a lot about the nonprofit world," said McCrystal. "She knows about the agencies and what they do for our community.
"When an organization is looking for indigent care money, there are a lot of questions you can ask beyond just knowing about the project itself. Like, what is your board like? What kind of other grants do you get? I think someone with Kerry's background knows what it takes to go beyond just taxpayer dollars," said McCrystal. "Don't just go to the district and ask for money when you could be doing other things too."
Bartlett was among several who applied for the seat, including Jennifer Tippin, a registered nurse and anti-mask advocate; Craig Rappel, a healthcare attorney; and James Large, a retired surgeon who last fall ran unsuccessfully against incumbent board member Barbara Bodnar.
The choice of Bartlett over candidates in healthcare-related fields may suggest the governor considered Bartlett's expertise in raising donations a way to shine a bright light on alternate revenue sources for programs funded by district tax dollars.
Bartlett called the Hospital District's impact over the years "profound." She said she sees opportunities, when the board revisits its strategic plan later this year, of leveraging not only financial resources but its leadership and collaborative roles "to accelerate and enhance the [local healthcare] system. 
"I'm excited to build on my base of knowledge and share my experience and perspective," she added.
Zudans was named to her seat in 2017 by a different Republican governor, Rick Scott. She was subsequently reelected.
Zudans gave notice of her resignation to the board in January, citing family reasons. The governor could have left the seat vacant until the November elections, but opted to fill it, waiting the full 45 days allotted by law to announce his choice.
The mother of four who once took a spin for charity in "Dancing with the Vero Stars" turned out to be a district powerhouse, taking on an important and time-consuming role steering the revival of the Gifford Health Center, where Treasure Coast Community Health ended up taking over from the county Health Department to restore and expand medical services to the Gifford community.
Zudans went on to serve as the Hospital District's liaison on the Gifford Health Center Advisory Committee. So far, a replacement has not been named.
Zudans became a spirited voice of support for the center under its new management. Services continue to expand and now include an on-site pharmacy.
She also was known during her tenure for urging agencies to try raising donations before using taxes to fund their services, an effort Bartlett, with her fundraising expertise, may continue.