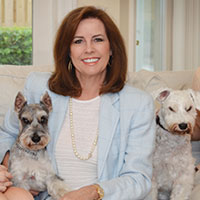 Kimberly Thorpe: A meteoric life comes to an untimely end
STORY BY STEVEN M. THOMAS (Week of March 4, 2021)

The hundreds of people who showed up at Strunk Funeral Home last Friday during visitation for Kimberly Thorpe were a testament to her qualities as a person and to her meteoric career in island real estate.
Thorpe, 54, who passed away unexpectedly in her sleep on Feb. 20, was "a single mom driving a minivan" around Vero Beach when she decided to go back to work in 2008, she told Vero Beach 32963 in a 2019 interview.
Born in Louisville, Kentucky, and raised in Alabama before moving to Vero in 2000, she had a good education and business experience years before but no background in real estate when she got her real estate license in January 2009.
Going to work for her future husband, Michael Thorpe, at his Vero brokerage, she looked like just another rookie trying out in a tough business at a very tough time for the housing market.
But it wasn't long before Mike Thorpe saw something special in his new hire.
"She started out in a partnership with another agent but that didn't work out and it was sink or swim time," Mike Thorpe said on Sunday.
She swam. Like an Olympian.
In her first year, Kimberly Kent Hardin, her name at the time, was the top listing agent in the office, with $17 million in listings. She was the top selling agent the next year, racking up nearly $20 million in sales.
"She leveraged her experience with the legal profession, the organizational skills and attention to detail, and figured a way to separate herself from the pack and excel in hard times," said Mike Thorpe.
"She was a very creative thinker and came to me with a lot of unbelievable ideas, things I had never thought of in my many years in the business. She created her own systems and check lists that we still use at the brokerage today.
"I came to see her as a real estate savant, and even though I had always been an independent broker and hadn't been thinking of taking on a partner, I ended up inviting her to join forces with me."
Kim had some family money behind her – her father was Lynn Velde, who owned Velde Ford in Vero Beach for many years prior to his death – and she bought half of Mike's business.
In January 2010, the new partners rebranded the business as Treasure Coast Sotheby's International Realty.
With the cash infusion and their combined talents, they held on through the downturn and thrived thereafter, growing sales from around $100 million in 2009 to $450 million in 2019.
After working together for six months or so in the apocalyptic market – an experience that Mike describes as like "going to war together" – the pair fell in love and began what Mike calls "an unbelievably passionate romance and life together."
They married a few years later, forming a blended family with Kim's son Harrison, and Mike's two daughters, Shannon and Rachel Thorpe.
By 2019, the Thorpes' brokerage had expanded to Brevard County and had some 100 agents listing and selling property from Fort Pierce to Cocoa Beach. In November of that year, they cashed in on their success, selling their business to ONE Sotheby's International Realty, a Miami-based brokerage expanding up the east coast of Florida.
After the sale, the couple stayed on as broker associates, returning to what both described as the "best part of the business."
"Listing and selling homes is my passion, and now we will be able to really concentrate on that," Kim told Vero Beach 32963 at the time of the sale.
With Mike's daughters heading off to college and Kim's son Harrison thriving at St. Ed's, the couple, by all accounts, was enjoying a happy, successful life together, selling lots of luxury real estate while also making time to enjoy things like surfing, fine wine and good friends.
That life came to an abrupt and tragic end two weeks ago.
Kim was at St. Ed's that Friday, meeting between real estate appointments with Harrison and Michele Sternberg, her son's college counselor, who also was a close friend of Kim's.
"We had no idea it was the last time either of us would see Kim alive," Sternberg said of the meeting. "We talked about Harrison's transcript and the opportunities he has ahead of him, and she could not have been prouder of him. She was beaming with pride that Harrison was doing so well in school and that the teachers were so impressed with his work."
Leaving the school that day, Kim stopped to congratulate Wanda Travis, who works in the gate guardhouse at St. Ed's, and who had just learned she would soon be a homeowner via the Habitat for Humanity program.
"When she first found out I was trying to get a home, she stood by me from day one," Travis said. "She was always calling or sending me positive texts, checking in, asking how I was doing. On the Friday before she passed she was even more excited than I was. I was jumping up and down and we hugged. As she was walking away she said, 'I can't wait for next Saturday!'" – the day Travis would get the keys to her new home.
That night, Kimberly Thorpe went to bed in apparent good health with no known medical conditions and died in her sleep. The cause of death is still unknown.
"I am devastated," said Mike Thorpe. "She was the love of my life and much better than I deserved. Because I am 12 years older than she was, it never crossed my mind that she would go first. I feel lost at times.
"I am OK when I am busy. Work is therapy. Surfing is even better therapy. And I have had my family around me, but it is hard. When I am alone in our bedroom gathering my thoughts, it is very hard."
Everyone interviewed for this story that knew Kim described her as someone who greatly enjoyed life – traveling the world with her husband and son, dining in great restaurants before the pandemic, sharing wine and good times with friends, attending NBA games, rock concerts and the opera.
Her professional peers thought highly of her as well.
"She was easy to work with, always accommodating and at the top of her game," said Cindy O'Dare, a broker associate at Premier Estate Properties who did business with Kim. "I am shocked and saddened by her death. I spoke to her last week and she was telling me how much she loved Cabo San Lucas and advised me on some great places to stay there. It is really heart-breaking to lose her. She was beautiful, had great style and a funny, dry sense of humor."
"She was a lovely person," said Matilde Sorensen, co-owner of Dale Sorensen Real Estate. "I wasn't close with her, but I saw her often having lunch at Quail. She seemed like a very, very nice person and was always very professional in her business dealings."
"People liked her, and she assembled a wide variety of friends," Mike Thorpe said. "She was kind and generous and a mentor to many of our agents. There were more than 300 replies on Facebook to the notice of her death. I was incredibly lucky to have the time I had with her and I will never stop missing her."