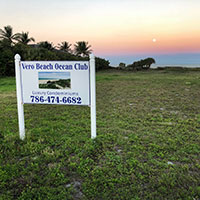 New project underway at south end of county
STORY BY GEORGE ANDREASSI (Week of March 11, 2021)

A long-delayed island subdivision is finally getting underway with a flurry of home sales in recent weeks.
Vero Beach Ocean Club sold two luxury condos and eight estate homes worth nearly $20 million in the past two weeks in the ocean-to-river subdivision just south of the Indian River County line.
A tunnel beneath A1A that can accommodate golf carts is a key selling point of the project because it allows residents to travel back and forth between the ocean and river sides of the subdivision without worrying about traffic, said Fredric Bernstein, a principal with Vero Beach Ocean Club LLC of Stuart.
"I'm giving a golf cart with each house and each condo," Bernstein said. "It makes it easy for people to enjoy the beach or the intracoastal, wherever they live in the community."
The developer anticipates starting construction shortly on 31 estate homes on a 43.5-acre tract on the west side of A1A, just south of the Indian River County line.
Construction on a 13-unit oceanfront condominium complex with a pool and clubhouse is expected to start by the end of the year on a 2.5-acre lot on the east side of A1A, Bernstein said Friday.
When complete, the 44-unit gated community will have a value of more than $88 million, with condos starting at $2 million and homes starting at $1.9 million.
"We're going to start construction right away," Bernstein said. The project is expected to be completed in about 30 months, depending on sales, he added.
Homeowners from the Northeast seeking to relocate amid the COVID-19 pandemic have been among the people inquiring about the units, Bernstein said.
"It looks like there are a lot of people from up north – Connecticut, New York, New Jersey – coming to Vero," Bernstein said. "I think we're getting a lot of sales from there; at least that's how the trend looks to me." Bernstein added he's also seeing interest from California buyers.
The subdivision has a walking path through a preserve area leading to a kayak and paddleboard dock on the Indian River Lagoon, Bernstein said. There's also a day dock for boaters.
"It's such a phenomenal piece of property," Bernstein said. "You can be on the ocean or go all the way out to the intracoastal and have all the amenities this property offers. It's nice and unique."
The condo complex will consist of six buildings, five at two stories and one at three stories, Bernstein said.
"They're right on the ocean," Bernstein said. "They have phenomenal views. Every one of the condo buildings has a penthouse with a roof terrace with 360-degree views."