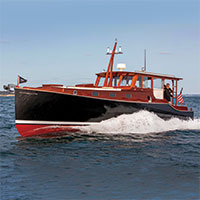 Replica of Hemingway's fishing boat coming to Vero
STORY BY SAMANTHA ROHLFING BAITA (Week of March 11, 2021)

A 21st century replica of Ernest Hemingway's fishing boat Pilar – almost as famous as Hemingway himself and the only boat the iconic author ever owned – is scheduled to make an overnight stop at the Vero Beach Municipal Marina on Monday, March 22, on her way down the coast.
Launched in Brooklin, Maine, the 38-foot wooden vessel will occupy a slip at the Vero Marina, where it will be available for viewing, but not boarding. The original Pilar currently is on display, up on blocks, at Hemingway 's former home, Finca la Vagia, just outside Havana, Cuba.
The visit to Vero of this model of 1930s nautical elegance, appropriately named Legend, highlights Vero Beach's connection to the Pilar saga in the person of Sea Oaks resident Eugene Wheeler Jr., a member of the Wheeler Yacht Company family which custom built the original vessel for a 34-year-old Hemingway.
While Legend's incredibly elegant outward appearance would have been familiar to Hemingway, today's materials, systems technology and luxurious appointments – along with Legend's top speed of 34.5 mph, more than double Pilar's 13 mph – would have stunned the author.
In the late 1920s, with the success of "The Sun Also Rises" and "A Farewell to Arms," Hemingway was becoming more widely recognized. But when he decided to have Wheeler build him a deep-sea fishing boat in the spring of 1934, he wasn't yet a literary superstar.
He had to get an advance from his editor at Esquire magazine to purchase the $7,455 boat – about $150,000 in today's money – which he paid back by writing stories for Esquire about his fishing adventures. Hemingway put $3,000 down on the boat when he ordered it and paid the balance "on delivery."
Eugene Wheeler, the last surviving grandson of shipyard founder Howard Wheeler, showed Vero Beach 32963 a copy of the purchase contract for "one 38-foot twin cabin Playmate cruiser and trolling motor." The contract, a simple, single-page, four-paragraph document, dated April 18, 1934, and signed by Hemingway, included a list of modifications the author requested to accommodate his salt-water fishing ambitions. 
After 5 months of operating Pilar in and around the Gulfstream, Hemingway wrote to friends, "Boat has been lovely – comfortable and a marvelous sea boat – all we hoped for and more." 
According to Hemingway and others, Pilar outfished other boats of the era and rode out four hurricanes at sea.
Hemingway's happy relationship with the vessel lasted from 1934 to 1958 – longer than any of his marriages. It's said he referred to her as "the one true thing" in his life.
Eugene Wheeler's grandfather, Howard, founded the Wheeler Shipyard in 1910 in Brooklyn, New York, joined over the years by his five sons. The original company lasted for more than 50 years, building 3,500 vessels for the U.S. Navy.
When the elder Wheeler retired at 88 in 1957, Eugene Wheeler Sr. and his brothers Robert and Wesley D. took the reins, but the company was already on hard times.
After surviving two world wars, the Great Depression, a disastrous boatyard fire and two bankruptcies, the company shut down in 1965 for what the new Wheeler generations consider a "hiatus."
Wes Wheeler, a great-grandson of Howard Wheeler who "grew up hearing plenty about boats," and his business partner, James Scandura, eventually relaunched a new high-tech iteration of the Wheeler Yacht Company, with Wes Wheeler becoming the fourth-generation president.
According to "Wooden Boat" magazine, Wes Wheeler concluded that Pilar's fame made her "a logical starting point for a new semi-custom line of 21st century Wheeler yachts."
With no blueprints to work from, reverse engineering of Pilar began in 2010. The new replica model that will be visiting Vero was launched in 2020 –and it is just as beautiful as the original.
Eugene Wheeler Jr. recalls having breakfast with his father and Hemingway at the Hotel Nationale in Havana when he was a small boy. The meeting was to discuss the possible purchase of a second boat, but Hemingway decided against it.