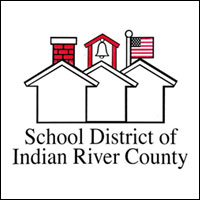 School district kept principal's COVID secret for two weeks
STORY BY GEORGE ANDREASSI (Week of March 11, 2021)

Vero Beach High School Principal Shawn O'Keefe's COVID-19 hospitalization was kept a secret from the public for more than two weeks despite his potential to have been an asymptomatic super-spreader as leader of Indian River County's most populous public institution.
O'Keefe's diagnosis wasn't reflected in the school district's routine press releases reporting COVID-19 cases in the public schools until Feb. 24, after repeated inquiries by Vero Beach 32963.
After the paper was prepared to report on his condition, O'Keefe issued a statement alluding to a stay at Cleveland Clinic Indian River Hospital and announcing his intention to return to work last week at Vero Beach High School – making no mention of his diagnosis.
Neither O'Keefe nor School Superintendent David Moore responded to telephone and email messages Friday asking whether he had returned to work and why his diagnosis was kept secret for so long.
School district officials earlier invoked the federal Health Insurance Portability and Accountability Act (HIPAA) as the reason for keeping O'Keefe's diagnosis secret even though the law doesn't apply to employers, schools, or school districts.
The hush-hush approach to O'Keefe's hospitalization with COVID-19 exemplifies the conflict between public health concerns and individual medical privacy created by the easily spread virus.
O'Keefe had been out sick with COVID-19 since early February, but the school district did not confirm his diagnosis until Feb. 23 when Vero Beach 32963 interviewed Deputy School Superintendent Scott Bass following the School Board meeting.
Bass and two School Board members acknowledged the public health concerns arising from the possibility a person in O'Keefe's position could spread the virus throughout the community.
O'Keefe presides over a staff of 240 on a campus with nearly 3,000 students near downtown Vero Beach.
But Bass erroneously claimed O'Keefe's diagnosis was protected health information under federal law.
"He didn't request it, but we always try to honor anyone's privacy," Bass said. "I feel like that is our responsibility. Obviously, we want to keep our students and staff safe, but we also want to honor people's privacy."
No one at Vero Beach High School had been in contact with O'Keefe long enough to meet the criteria for quarantining, Bass said.
O'Keefe had been out more than two weeks with COVID-19 as of Feb. 23, Bass said, but he could not recall the precise date his sick leave started.
The date the school district was notified about O'Keefe's diagnosis "is protected by HIPAA privacy rules," according to school district spokeswoman Cristen Maddux.
However, employers and most schools and school districts are listed as organizations that do not have to follow the HIPAA privacy and security rules, the U.S. Health and Human Services website says.
Despite repeated public record requests, an email sent to Vero Beach High School teachers in mid-February notifying them about O'Keefe's extended absence had not been provided as of Sunday. The public records request was first made Feb. 22, two weeks earlier.
O'Keefe's official duties as principal created the potential for him to transmit the virus to district officials, assistant principals, department heads and staff supervisors, as well as teachers, coaches, bus drivers, students, parents and members of the public.
Viral shedding – the process of spreading the virus – can occur up to five days before symptoms appear, according to Cleveland Clinic infectious disease specialists Ryan Miller and Kristin Englund.
Asymptomatic shedding may account for up to 60 percent of cases, Cleveland Clinic experts say.
"It is very easy to transmit the novel coronavirus that causes COVID-19," Miller and Englund conclude.
Asked what the school district would tell the community about whether O'Keefe had the potential to spread the virus prior to his diagnosis, Bass invoked HIPAA, even though the law does not apply.
"I think we're bordering now on ... private HIPAA stuff," Bass said.
A VBHS assistant principal was also diagnosed with COVID-19, Bass said. But he declined to identify the person, again invoking HIPAA.
School Board Chairman Brian Barefoot, who represents the barrier island, said it's "inaccurate" to characterize the school district's approach to O'Keefe's COVID-19 diagnosis as "hush-hush."
"I believe the district did what they thought was right in protecting the privacy of an individual," Barefoot said Saturday.
"I suppose if one were looking for something to be critical of it could look like suppression, but I don't believe that was the case," Barefoot said. "I believe the district has gone out of its way to inform the public in a timely manner for the past 11 months."
But School Board member Jacqueline Rosario, a former principal, said she understood the public health concerns about O'Keefe's COVID-19 diagnosis.
"There is no telling exactly where he contracted it that we know of," Rosario said after the Feb. 23 board meeting. "So, we cannot be certain that it was from our school or from our students. People can get it going to the supermarket."
O'Keefe's COVID-19 diagnosis was the latest pandemic-related difficulty for Vero Beach High School, which has been a hotbed for COVID-19.
The Fighting Indians canceled their season-opening football game in September because a significant number of players were quarantined after being exposed to a student who tested positive for COVID-19.
Vero Beach High tied for the ninth highest number of COVID-19 cases among public high schools in Florida as of Feb. 27, a report released Friday by the state Department of Health shows.
VBHS ranked as high as seventh in the state as of Nov. 26, state records show.
There have been a total of 135 COVID-19 cases at Vero Beach High School this school year, as of Feb. 27, the March 5 state Health Department report says.
The total includes 120 students, five staff members and 10 people whose role was not identified, the report says. Five VBHS students and one other person were diagnosed with COVID-19 during the week of Feb. 21 through Feb. 27.
Another 53 people at the Freshman Learning Center were also diagnosed with the virus as of Feb. 27, the state Health Department report says.
The total includes 46 students and seven people not otherwise identified, the report says. One FLC student was diagnosed with COVID-19 during the week of Feb. 21 through Feb. 27.
The school district has reported much lower infection numbers, announcing a total of 50 students and 10 staff members at Vero Beach High School have been diagnosed with COVID-19 since the new school year started Aug. 24.
Another 24 students and three staff members at the VBHS Freshman Learning Center have tested positive for the virus this school year, including 17 students since Jan. 14, school district records show.
Maddux said last week she is looking into the disparity between the school district and Florida Department of Health statistics.
Some students said recently they don't feel safe at Vero Beach High School.
The fact the school's leader caught COVID-19 and the relatively high number of cases at Vero Beach High School concerns Lea Smith, a 10th-grader.
"That's not safe," Smith said when interviewed Feb. 26 near the school.