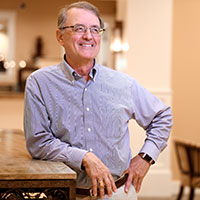 Longtime island banker and nonprofit leader Scott Alexander retiring from Northern Trust
STORY BY MARY SCHENKEL (Week of March 11, 2021)
Photo: Scott Alexander in the lobby of Northern Trust Bank.

After five decades in banking, including 13 years in Vero Beach, Scott Alexander is retiring as regional president of Northern Trust, effective March 31.
Besides managing money, during his time here Alexander has been deeply engaged with the community, serving multiple terms on the boards of high-profile nonprofits including Riverside Theatre, the Vero Beach Museum of Art, the Indian River Community Foundation, the United Way of Indian River County, Indian River Medical Center Foundation and the Gifford Youth Achievement Center.
He is quick to credit the team at Northern Trust for enabling him to be so involved with the nonprofits, beginning, he said, on day one, when his predecessor, Bob Bauchman, introduced him to the late Richard Stark. 
Alexander recalled that during that meeting, Stark told him, "You need to be on the board of Riverside Theatre." When Alexander acquiesced, Stark picked up the phone, called someone and said, "Put Alexander on the board." 
"And so, they did. That was so Dick," said Alexander, who served six years on that board. "He was one of my mentors here in town. We would talk with some frequency and he looked out for me in a lovely way. What a great guy."
Another of his mentors and friends was the late Alma Lee Loy, who he said would frequently share insights about the inner workings of his new home. 
"She made me feel like I belonged in this community the moment I walked in the door, which was her way. She had a unique ability of making everybody feel welcomed, and she made sure that I was welcomed here," said Alexander. "Instead of being an outsider, she wanted to make everyone feel like an insider."
Alexander's tenure on several boards came during critical periods of transition and growth.
It was during his term as board chairman of the Vero Beach Museum of Art that Lucinda Gedeon announced her retirement as CEO.  He served on the search committee for a new CEO and oversaw the transition from Gedeon to Brady Roberts. 
While serving on the board of the Indian River Community Foundation, he chaired the search committee for another eminently successful hire, Jeff Pickering, as that board's CEO. Alexander served on the IRCF board for 10 years, including a term as its chairman.
Alexander served as chairman of the Gifford Youth Achievement Center Foundation board and put in six years each on the boards of the United Way of IRC and the United Way Foundation.
"My favorite part was getting to know the community and the people who make this community work," said Alexander.
"Not only those who were involved with the organizations themselves, but the funders, the philanthropic individuals who were deeply involved became good friends. It allowed me to dig into the community and get to know it as best I could. It made me appreciate this community for what it is. There are a lot of things to appreciate about this little town."
Matt Rundels, who joined Northern Trust three years ago as senior portfolio manager, will become regional president on April 1, bringing with him expertise in business and management from his time here as well as from his prior position at Wells Fargo in Palm Beach County.  
"He's done a great job of client interactions and working with the community as well," said Alexander, noting that Rundels currently serves on the Community Foundation board and chairs its investment committee. 
"The organization is in very good hands with him as the head; I'm extremely comfortable with him being my successor."
Alexander and wife Gail plan to remain in Vero Beach, albeit as snowbirds, spending summers in Cape Cod.