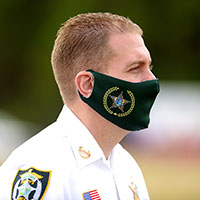 Sheriff Flowers forming a 'Citizen Advisory Committee'
STORY BY RAY MCNULTY (Week of March 25, 2021)
Photo of Eric Flowers

Sheriff Eric Flowers will soon announce the creation of a Citizen Advisory Committee he hopes will improve communication between county residents and his agency by allowing the panel to review policies and procedures and, when appropriate, offer recommendations.
The committee – believed to be the first in the agency's history – will not have oversight responsibility, however, nor will it participate in the Sheriff's Office's active cases.
Flowers, who was elected in November to his first term as sheriff, did not respond to questions about his motivations for forming the committee, how it will be structured, how members will be selected and its mission.
But a public records request filed earlier this month by Vero Beach 32963 produced 33 pages of Sheriff's Office documents related to the committee – including a series of emails in which Flowers asked all five county commissioners in January to nominate up to three candidates to serve on the panel.
In his initial email to the commissioners, Flowers wrote that he was forming a committee that will "provide a public forum for constructive dialogue between citizens and law enforcement" and "study relevant policies and procedures and provide recommendations."
As of March 12, Commissioners Joe Earman, Peter O'Bryan and Laura Moss each had submitted three names.
"I think it's a great idea," Moss said. "I'm always in favor of reaching out to the community."
Among the other documents was the Orange County Sheriff's Office's April 2016 "general order," which details the mission, makeup, policies and procedures of that agency's Citizens Advisory Committee.
Based on email exchanges between members of the Sheriff's Office's command staff, the citizen's committee here will be based on the Orange County model, albeit with some modifications.
In Orange County, the committee has nine members chosen by the sheriff to serve staggered two-year terms, though they may be reappointed for one additional term.
Members must be county residents, at least 21 years old, pass a background investigation and have no felony record.
Each county commissioner and the collective bargaining union may nominate one person for membership, which, the order states, "should reflect a variety of occupations."
Elected officials and candidates for public office are not eligible for membership. The committee meets publicly on a quarterly basis.
There is nothing in the emails or documents provided by the Sheriff's Office here that indicates how much of the Orange County sheriff's order Flowers will incorporate into his general order creating his Citizens Advisory Committee.