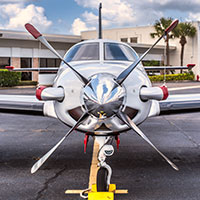 Simon Caldecott, driving force behind resurgence of Piper Aircraft, retiring
STORY BY RAY MCNULTY (Week of March 25, 2021)

Piper Aircraft's announcement this week that President and CEO Simon Caldecott will retire on April 2 didn't merely mark the departure of the driving force behind the decade-long resurgence of the county's largest private-sector employer.
It was a reminder of how Piper nearly lost its way.
Even though he was only interim president and CEO when he arrived in 2011, Caldecott didn't hesitate to make a major course correction in the company's flight path.
Correctly reading industry trends in the midst of a recession that hit the aircraft industry hard, Caldecott immediately halted Piper's ill-fated venture into a once-trendy-but-faltering, small jet market.
"Clearly," Caldecott said at the time, "the market for light jets is not recovering sufficiently and quickly enough to allow us to continue developing the program under the economic circumstances we face."
Instead, under Caldecott's direction, Piper turned its focus to its M-Class line of single-engine, cabin-class business aircraft – launching the luxurious M600 turboprop that has become a huge seller and the company's flagship product – and expanded its offerings in the now-burgeoning trainer aircraft market.
During his tenure, Piper also embraced Garmin's Emergency Autoland technology, a major safety upgrade that can completely take over landing a plane, and installed it on the new M600 SLS aircraft.
"Suspending the jet program was one of his first initiatives, and it was absolutely the right decision," Piper spokeswoman Jackie Carlon said of Caldecott, who spent the final 10 years of a 47-year aviation industry career overseeing the Vero Beach-based company.
"And shifting our efforts to the M-Class line and the trainer market not only grew our business, but it put us on the path to where we are today," she added. "He was the right person at the right time, a great leader who made a tremendous contribution to our company.
"He's leaving us in a very good place."
Carlon said Caldecott informed Piper's ownership months ago of his desire to retire, and the company's board of directors has been working on a succession plan and a new leadership structure that will be announced soon.
In his farewell statement, Caldecott said: "It has been an honor and privilege leading Piper Aircraft through a transformative journey – from a legacy aircraft manufacturer to the first general aviation manufacturer to certify an Autoland-equipped, general aviation aircraft.
"We strengthened the leadership team with new talent, made major facility improvements to make a safer workplace and strengthened relations with the community, as well as with major suppliers."
He ended by saying: "With everything in place, the company's future prospects are extremely encouraging, and I look forward to a smooth transition."
"I always enjoyed working with Mr. Caldecott," said Eric Menger, now-retired longtime Vero Beach airport director. "He is an outstanding aviation professional."
"He always did a great job running Piper," said County Administrator Jason Brown. "I wish him well in his retirement. He'll be missed."