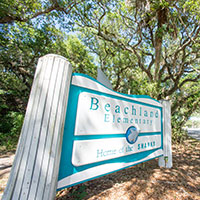 Three more Beachland Elementary students test positive for COVID-19
STORY BY GEORGE ANDREASSI (Week of March 18, 2021)

Three Beachland Elementary students tested positive for COVID-19 and 17 classmates were quarantined last week in the most serious outbreak of the virus this year at the island's only public school.
That brings the total number of COVID-19 cases at Beachland Elementary this school year to 13, according to Florida Department of Health reports, or nine, according to school district press releases.
Some parents said Friday they believe the school has done a good job containing COVID-19 and notifying them about cases, but others said they were unaware of last Wednesday's outbreak and were concerned for their children's health.
"I didn't know about it, but I'm not happy because it's contagious and I have a child in that school," said Sandy Brachfeld, whose granddaughter is a fourth-grader at Beachland Elementary. "She's vulnerable."
Deangilo Williams, who has a daughter in third grade and son in fifth grade at Beachland Elementary, said: "Knowing that they can bring it home without knowing and nobody notified us about the COVID cases is pretty strange. I had absolutely no idea and I bring them to school every day."
But Lorri Dior, who has children in the fifth and second grades at Beachland Elementary, said the school notified her about the COVID-19 cases identified on Wednesday, March 10 and she has "no concerns whatsoever, and I'm a health care provider. The school has been phenomenal."
Tricia Boyle, whose daughter attends kindergarten at Beachland Elementary, said the school notified her about the COVID-19 cases at the school and educators did a good job limiting the virus to 10 cases for the year in a school with 500 students.
"For the whole year, I think that's pretty good considering the amount of kids," Boyle said. "I was just glad my daughter was not in contact with one of these kids."
Ten students, one staff member and two others at Beachland Elementary have tested positive for COVID-19 cases as of March 6, according to the state Department of Health's March 12 report on COVID-19 in schools throughout Florida.
But school district press releases as of March 14 indicate just seven students and two staff members have tested positive for the virus at Beachland Elementary since Indian River County public schools opened Aug. 24.
Vero Beach 32963 is seeking an explanation for the disparity from school district officials.