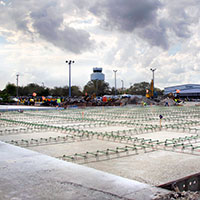 Vero Beach Regional Airport thriving; launching ad campaign to raise profile
STORY BY STEVEN M. THOMAS (Week of March 11, 2021)

Despite the pandemic, Vero Beach Regional Airport is visibly thriving, with private jet traffic up, more than $12 million in construction underway or about to begin, and a customs facility that will open the field to international flights moving forward. 
An ad agency has been hired to market the airport to additional tenants – even as space is being created for them – and a British pilot training organization is taking over the faltering FlightSafety Academy, with a promise to build "the No. 1 flight training school" in the United States.
Elite Airways had to shut down for a time and had fewer flights over the past year, but it survived and currently is flying from Vero to Newark, New Jersey, and Portland, Maine, with some upcoming flights to Newark sold out well ahead of time.
"The airport is financially sound, and we are working hard to make sure it stays that way," says Todd Scher, who took over as airport director in January after decades working in a range of positions at the city-owned airport, most recently as assistant airport director.
The nearly 100-year-old airport hasn't escaped the pandemic totally unscathed. Overall operations – airport speak for a take-off or a landing – were down more than 50 percent in 2020 compared to 2019 and several airport tenants were unable to pay their rent for a while.
But while it may seem counter-intuitive for the airport to be doing well when flights fell off so dramatically last year, the drop was due almost entirely to a slowdown in pilot training activity at FlightSafety as international students returned to their home countries. And those take-off and touch-down training operations were not a significant source of revenue for the airport.
The airport gets its income mainly from rent paid by scores of tenants on its vast, 1,660-acre property, concession fees paid by companies that fuel and service private and corporate aircraft, and grants from the Florida Department of Transportation and the Federal Aviation Administration.
As it turned out, only four airport tenants needed rent forbearance and all of them are now in repayment mode, catching up on their back rent, according to Scher, and the pandemic-inspired, multi-trillion-dollar CARES Act relief package funneled more than $1 million in extra government money to the airport that enabled Scher to accelerate a key construction project aimed at new tenants.
Meanwhile, with airlines shutting down early in the pandemic and still flying fewer routes, private and corporate jet traffic soared.
"We did good last year, and I see flights continuing to increase," says Roger Pridgeon, owner of Corporate Air, the jet service and charter company that fuels and services many of the aircraft owned or used by island residents for business and personal trips.
"We saw an increase in people flying private, people that had been flying on airlines who needed to travel and could afford to buy or charter a plane."
Pridgeon says fuel sales were up about 8 percent in 2020 over 2019, while hangar rental income jumped 20 percent.
The pandemic fueled increase in business was a continuation of Corporate Air's steady expansion in the past several years during which Pridgeon has built two new hangars and a private luxury terminal for his customers.
He's now funding construction of a $1.8 million customs facility that will open the airport to international flights.
The customs house is slated to open in early 2022 and Pridgeon believes it will substantially increase his business – and airport revenue – as it makes international travel easier and cheaper for people living, working or visiting in Vero Beach.
Now, if an island resident or visitor is flying in from the Bahamas or Europe, they have to land in Fort Pierce, clear customs and then take off and land a second time at the Vero Airport, an expensive and time-consuming process.
"We think it will increase our business about 30 percent," says Pridgeon. "We have a financial feasibly study based on other airports, in Stuart and Boca, that saw that kind of increase after opening to international flights."
Joel Scher, who manages Fixed Base Operations – fueling, fixing, cleaning and supplying private planes – at Sun Aviation says his business was at least as good in 2020 as in 2019 and maybe even a little better.
"When the pandemic first started, it got real busy with everyone trying to get where they wanted to go" while the airlines were shut down, says Scher, who has worked for Sun Aviation for 20 years and happens to be airport director Todd Scher's son. "That rush didn't last but we have stayed busy.
"Besides fueling and maintaining aircraft, we basically do anything the customer needs, from laundry and dry cleaning to catering and crew food, doing dishes, arranging for rental cars or limos, detailing aircraft, doing whatever they ask for within reason."
Construction underway at the airport includes a new $3.1 million ramp designated for current and future commercial airlines right behind the main terminal, where 14 inches of concrete heavily reinforced with rebar will bear the weight of large jets.
Nearby, work started this week on refurbishing the ramp used by Sun Aviation's customers – a ramp being the area where planes pull off the taxiway and are tied down and serviced prior to being moved into a hanger or taking off again. That is a $2.9 million project partially funded by CARES Act money.
To the north, on the far side of the airport, another major ramp project is underway to create space for new tenants and air traffic.
A $1.7 million Phase 1 is underway, and the $5 million Phase 2 part of the project will be complete by the end of the year, according to airport officials.
"The Phase 2 over there was going to be an 80-20 split, with FDOT funding 80 percent and the airport coming up with 20 percent, but we hadn't figured out where our part was going to come from," Todd Scher says. "Fortunately, we were able to use CARES Act money for our portion, which made it possible to go ahead with the project this year. It is not costing the airport or the city anything."
With room for more tenants and aircraft, the airport has hired a full-service, award-winning ad agency with many government and transportation clients to promote the airport to businesses.
"The Brand Advocates has a two-year contract to raise our profile," says airport operations manager Brandon Dambeck. "They are working on an ad campaign and deliverables for local and national real estate companies. Those deliverables also will be going to site selection guilds and other industry organizations for light manufacturing and light industrial facilities. They're also revamping our website and social media presence."
"We are really excited at some of the prospects that are coming up and things we are trying to do," says Todd Scher, who logged more than 11,000 miles as a commercial pilot before going to work for the airport. "We have a fantastic staff, and we feel like we are going in a good direction."
The airport belongs to the City of Vero Beach but operates as an enterprise fund, meaning it supports itself. It has 12 full-time and 2 part-time employees and an annual budget around $3 million.
"We don't take any general tax fund revenue," Scher says. "We are completely self-sufficient. And we have to make sure we maintain that."