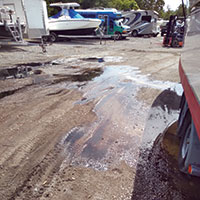 Vero boatbuilder cited for dumping oil and gasoline
STORY BY SUE COCKING (Week of March 18, 2021)

A state environmental health inspector has issued a civil citation against MR Marine Boatworks in Vero Beach for six violations of state anti-pollution laws against discharging oil and gasoline on the ground outside the shop.
David Martin, who said he worked at the boat repair facility on Old Dixie Highway for about eight months before being fired, contacted the Florida Department of Health in February to report that the shop dumped at least 150 gallons of boat fuel on the ground and allowed used oil to leak from a holding tank and soak into the ground when it rained.
Martin said he reported the problems to his bosses, but they ignored him.  "I told them 'you can't be dumping this ****,'" Martin said. "They ignored me month after month."
Martin provided photographs to Charles Vogt of the Health Department showing what appeared to be puddles of oil and gas on the property.
Vogt, along with Indian River County senior stormwater inspector Todd Tardif, visited the site last month and cited business owner Ronald D'Haeseleer Sr. for discharging pollutants into surface and groundwaters; creating a public health hazard; and improper storage and disposal of used oil. 
D'Haeseleer was ordered to immediately seal oil and fuel containers and store them away from all stormwater until proper disposal. He was given 30 days to hire an independent environmental cleanup firm to investigate the extent of the pollution, get it fixed within 90 days, and submit a report to the Florida Department of Environmental Protection.
Failure to comply comes with fines of $500 per day per violation. Vogt also notified the property owner, Charles Sullivan of Glendale Mini Storage in Vero Beach, that he ultimately may be held responsible for the violations.
Ron D'Haeseleer Jr., who runs MR Marine, told Vogt in a Feb. 15 letter that the shop is taking corrective actions: hiring Universal Environmental Services to remove and dispose of the gasoline and oil from the tanks, and sealing tanks and containers and storing them away from stormwater pending removal. 
For now, Vogt says he is satisfied with MR Marine's response to the violations.
"They are following through with compliance," Vogt said. "I'm somewhat pleased they are coming along quietly. Our interest is in getting corrective measures performed."