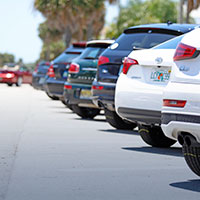 Vero police resume parking enforcement in Central Beach
STORY BY RAY MCNULTY (Week of March 4, 2021)

If you happened to find yourself strolling through the Central Beach business district or wandering around downtown last weekend, you might've noticed something you hadn't seen in months.
Parking tickets stuck on windshields.
That's because the Vero Beach Police Department, for the first time since the early months of the COVID-19 pandemic last summer, resumed its enforcement of parking time-limit violations throughout the city last week.
The agency announced on its Facebook page last Friday that it had hired and trained a new parking enforcement officer, Indian River Charter High School graduate Shelby Speer, and that she now is ticketing parking violators.
Vero Beach Police Chief David Currey said his department temporarily stopped enforcing parking time limits during the pandemic to help merchants who were struggling during a state-mandated shutdown of businesses deemed unessential and the restricted operations of those permitted to remain open.
In addition to suspending weekday enforcement of parking time limits, city police did not extend parking patrols to Saturdays during the Vero area's busy season – from Nov. 1 to June 1 – as it had done since 2016.
Currey said the citywide parking-enforcement suspension, which was approved by City Manager Monte Falls, did not apply to violations pertaining to the improper use of handicapped spaces and fire lanes.
"We relaxed our enforcement because we were in an extraordinary situation with the pandemic, which was having a negative impact on local businesses," Currey said. "Merchants called us and told us they were having a tough time, so we wanted to do something to make it more convenient for their customers.
"We moved John Makolin, who was our parking enforcement officer, to dispatch duty when parking enforcement was suspended, but now that we've hired Shelby and local businesses are open to full capacity again, we decided this is the right time to resume enforcing parking limits again."
But not on Saturdays.
"We'll be patrolling Monday through Friday from 8 a.m. to 4 p.m.," Currey said, "but we're going to forgo Saturdays for the rest of this season, then re-evaluate for next year."
Speer, hired two weeks ago, was trained in-house for the non-sworn position, which requires no state certification. Currey said Speer will continue her training to possibly expand her duties, taking courses at Indian River State College.
Speer also will be trained to operate an electronic license plate reader – rather than relying on marking tires – when the agency begins using the digital device later this year.