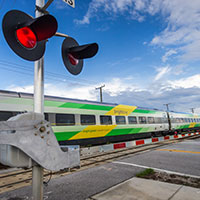 Brightline: Orlando to Tampa link 'key' to success of Florida rail project
STORY BY GEORGE ANDREASSI (Week of May 27, 2021)

Brightline officials at a May 19 press conference came close to admitting they need a rail connection between Orlando and Tampa to make their Florida project a success.
After years of extolling the great prospects for a Miami to Orlando high-speed rail line, Brightline's top brass used the news conference to try to drum up political and community support for the expansion of the high-speed rail network to Tampa.
"We need for this project to go to Tampa," said Mike Cegelis, Brightline's vice president for construction. "It's kind of a threshold. Connecting South Florida to Orlando is a big deal, but we're not going to push this over top and have a connected rail system in our state unless we connect to Tampa."
The Orlando news conference was presented as a celebration of "passing the halfway mark for construction on its extension [from Palm Beach] to Orlando," but the company did not define or quantify what "halfway" means in terms of work completed.
"Today, Brightline is halfway home to Orlando as we progress toward completion of one of the nation's largest and most significant transportation projects," Brightline's CEO Mike Reininger said. "Imagine a dozen new corridors like this all around the country. We believe Brightline is showing the way."
In addition to linking Miami and Orlando – and possibly Orlando and Tampa – Brightline is also developing a passenger rail connection between Los Angeles and Las Vegas.
But before realizing Reininger's dreams of a national passenger train empire serving premier destinations, Brightline must complete the gritty work of constructing 170-miles of high-speed tracks across rivers and streams and through towns and cities from West Palm Beach to Orlando International Airport.
To that end, the company has ramped up construction at railroad crossings in northern Indian River County.  The improvements include installation of new railroad crossing safety signals, guard rails, control boxes, motion sensors, warning signs and other safety devices.
Brightline plans to run 32 trains per day through Indian River County at speeds of up to 110 mph en route between Orlando and South Florida starting in early 2023 after completion of its $3-billion extension north from Palm Beach to Orlando.
The company anticipates resuming passenger service on its first operational stretch of track between Miami and West Palm Beach later this year after completing signal testing on a new positive train control system in July.
The most intense construction activity in Indian River County has been taking place since last July along the 95-year-old St. Sebastian River Railroad Bridge, where two massive cranes are being used to replace the 1,625-foot-long steel structure with a concrete bridge.
The $33 million bridge project is expected to be finished in December 2022 as the overall project is wrapping up.