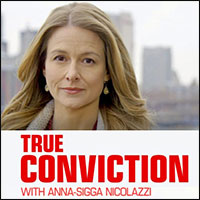 Diana Duve murder subject of television documentary
STORY BY LISA ZAHNER (Week of May 13, 2021)

The tragic homicide of Moorings resident and Sebastian River Medical Center nurse Diana Duve has been a story of intense local interest for nearly seven years, and now is the subject of a Discovery Channel documentary available online this week.
True Conviction's Season Three, Episode Seven entitled, "Heinous, Atrocious and Cruel" features two of the Vero Beach police detectives who searched for Duve and tracked down her killer Michael David Jones – who was convicted of first-degree murder in 2019 and is serving a life sentence in prison.
State Attorney Tom Bakkedahl, who successfully prosecuted the case, also figures prominently in the 43-minute show, as do Duve's mother, Lena Andrews and Duve's best friend, both of whom testified at the murder trial.
Lt. Matt Harrelson and Cpl. Brad Kmetz have long since rotated duty assignments out of the Investigations division, but they remember their time as detectives in the summer of 2014 like it was yesterday, recalling the details of the case to True Conviction host Anna Sigga-Nicolazzi, a former Brooklyn prosecutor.
They described how a mother's pleas to find her missing daughter evolved over the course of a weekend into a three-county hunt for her killer.
Vero Police Chief David Currey praised the show, which drills down hard on the perils of domestic violence and reveals how anyone – even an educated, employed, successful, beautiful, single young woman with a loving family and everything going for her – can become a victim.
"We are very happy with the True Conviction episode.  Lt. Matt Harrelson, and now Corporal Brad Kmetz did an excellent job representing themselves and VBPD!" Currey said.
The show was scheduled to air sooner, and on the A&E channel instead of Discovery, Currey said, but the project was delayed due to the pandemic. Currey said the New York production company Weinberger Media and Associate Producer Rachel Rowan were very positive during the process and that he's open to working with them again.
"When we were first approached, I explained how we wanted the episode to be about remembering Diana while sharing the investigation with the viewing public. First and foremost, I met with Diana's parents, Bill and Lena Andrews, for their approval and to explain how the episode would be depicted," Currey said. "We would have never moved forward without their approval."
To illustrate the events, actors portray scenes from the turbulent lives of Duve and Jones, and of the moment Jones was found hiding out in a Fort Pierce hotel room.
Filled with surveillance images and documents from the case file, the show features a few details collected by investigators but not entered as evidence against Jones during the lengthy trial, so even people who followed the case closely might learn something new.
Discovery Plus members can access the show via the app, and Amazon Prime members can find the show in Prime Video to rent or buy as the episode went live this Tuesday.