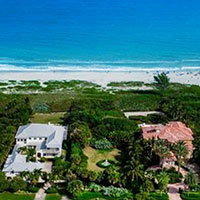 Huge price jump for property on ocean and river
STORY BY STEVEN M. THOMAS (Week of May 20, 2021)

Oceanfront and riverfront real estate prices on the island have jumped dramatically over the past year and especially in recent months, as ever-increasing buyer demand runs up against historically low inventory.
An astonishing case in point is a .65-acre oceanfront lot in Riomar south of the golf course sold earlier this month by Cathy Curley, a broker associate at Dale Sorensen Real Estate, for $5.5 million – more than double what the land was purchased for just last July.
Meanwhile, median single-family home prices in The Moorings, where many homes are waterfront, are up 40 percent so far this year compared to last year, from $1.45 million to $2.435 million, according to Moorings Realty Sales Co. broker Marsha Sherry.
And the average sold price for homes on the river or on canals island-wide during the past 12 months is up 30 percent compared to the prior 12 months, from $1.576 million to $2.015 million, according to figures provided by Dale Sorensen broker/owner Matilde Sorensen.
"I have never seen this market before," says Sherry, who notes a previously unknown urgency on the part of buyers coming to Vero from around the country.
"There is an insatiable desire for island real estate," says ONE Sotheby's broker associate Mike Thorpe. "It's hit critical mass in the past 60 to 90 days. There was a 20- to 25-percent increase over the past year or so and then another 10- to 20-percent jump in the past 90 days. We are in uncharted territory."
"This is a market unlike any before," agrees Sally Daley, owner of Daley & Company Real Estate. "It is, in part, decades of being undervalued finally catching up in a time of increased demand and drastically reduced supply."
"There has been a reset on our prices," says oceanfront developer Yane Zana. "It happened around January. An oceanfront house I built and sold at 640 Reef Road was on the market all last year for $7.995 million and there were lots of showings but no sale. Then, in January, Luke Webb brought a buyer who paid $7.7 million. Almost immediately multiple other homes on the street sold for more than $7 million. Nothing had ever sold over $6 million on Reef Road before this year."
Even with the reset, Zana believes there is plenty of room for further price appreciation.
"A similar house I built next door to 640 Reef is owned by the same person who sold 640 for $7.7 million," he says. "It was just completed, and she just moved in, so she is not ready to sell, but I have been approached by top island agents asking if she would be willing to sell. If she does, I believe it will go in the $10 million range."
"The homeowner wants $9.9 if she sells and I have several buyers who are interested at that price," says Webb, an estate agent with Premier Estate Properties. "The only problem is, she just got settled and isn't ready yet to move again."
"Ten million might seem like a high price on that street right now, but the same house would be $1.6 or $1.7 million in Delray Beach," Zana says, "so maybe the price will end up being higher."
Zana has seen the same upward price pressure at his Indigo development south of Tracking Station Park.
After he acquired the 4-acre track for $6 million last fall, he was immediately approached by other developers who offered him as much as $14 million for the prime oceanfront tract.
Zana decided to keep the property and develop a gated luxury subdivision with 15 detached villas and a condo building with 6 units, with prices ranging from $2 million to $3.5 million.
He debuted the development in January and already has 11 out of 21 units under reservation, even though he is still a month or two away from breaking ground.
Seeing the strength of buyer demand, Zana has begun raising the price of his oceanfront villas $100,000 with each sale, maximizing profit as developers everywhere do as their projects sell out.
Brokers up and down the island say the intense demand for island property continues to be driven by an influx of buyers from large urban areas from Miami to Manhattan to Los Angeles who hated the experience of being stuck in an apartment during last year's shutdowns.
Many who were planning to retire to Florida in the coming years moved up their plans, and others simply decided to get out of the city and find a place with abundant open space and outdoor activities where businesses were open, and their kids could attend school in person.
Having discovered they can work remotely from anyplace broadband goes, top executives are coming to Vero in search of large homes with room for an office and extended family – and for some of them, price is not their main concern.
"There are so many buyers out there who are so motivated to get a slice of our beautiful seaside environment and lifestyle that price is not always as big a factor in a purchase," says Webb.
"I recently placed two CEOs of public companies and a top corporate office of a large, publicly traded biotech company in homes on the island. Also, two other CEOs of large private companies.
"And I've got two dozen other buyers in that stratosphere I am working with who would buy a house here tomorrow if we could find what they want, and price wouldn't be so much of a factor."
That was the case with Curley's client, a sophisticated buyer from Palm Beach who obviously knew what the property had sold for nine months earlier and didn't care.
"My clients wanted to live on that stretch of Old Riomar Ocean Drive where it's not busy traffic wise, yet still close to everything and feels like a real neighborhood," Curley says. "They will build a beautiful home there, confident that property values in Vero are likely to continue going up, up, up.
"The price may seem a bit high, but again, if you have a broader look at what's really going on in this market and how few options there are for oceanfront between the two bridges, you realize that it's not going to look high for very long. 
"When we began negotiating in February, $5.5 million seemed crazy high, but now just after the close, I already feel like it's not that high because of how much the market has gone up in the past 2 months!"
Curley's client, who closed on the Riomar property at 1746 Ocean Drive on April 2, is bullish enough on Vero's island that he bought a second property later in the month as an investment, paying $3.4 million for the last vacant oceanfront lot for sale along Ocean Drive between the Vero Beach Hotel and the Conn Beach boardwalk.
"That sale closed on April 29 and my client has already been offered a million more than what he paid, but he will hold out for a higher price," Curley says.
Scarcity – "Since I started here in 2004, there have typically been 300 to 400 houses for sale on the island," says Sally Daley. "Today there are 60 to 70 – but it is far from the only one" – is a key factor pushing prices higher, but it isn't the only one.
"Many factors at play here," says Curley. "We've always had the nice weather and low taxes, but now we are seeing people come up from Miami and Palm Beach to seek less traffic and get more for their money, and we are seeing Northeasterners who were snowbirds decide to stay year-round, or at least extend the season longer, and many of their kids and grandkids are moving here. St. Edward's is nearly at capacity and that wasn't the case when I moved here 5 years ago. 
"The lifestyle here can't be beat and actually our real estate looks pretty affordable to those in the Northeast. I believe people think Vero is like Palm Beach was many years ago, and that Vero will continue to do very well. I'm hopeful we will get even better shops and restaurants, and that people will continue to invest here.  Vero is becoming less of a 'hidden gem' every day."
While waterfront is leading the upward charge of prices on the island, property across the board is appreciating rapidly.
Online real estate sales and data giant Redfin reports that asking prices throughout 32963 ZIP code are up 37 percent year over year.
"The price increase is across all product segments on the barrier island," says Daley. "What was $900,000 a year ago is $1.1 million or $1.2 million now."
Despite the price increases already seen, most island real estate professionals think there is plenty of room for continued appreciation.
"Property values in Vero Beach have a long runway ahead of them in comparison to other parts of Florida," says Matilde Sorensen.
"It is not going to slow down," says Daley. "We are seeing a broader range of geography and demographic come here now, people from Delray Beach and California, as well as New York and New Jersey.
"In the past few weeks, everyone I have had out for showings has been in their early 50s with at least one kid still at home."
"Even with prices as high as they have come due to COVID, when you factor in scarcity and the desirability of Vero, oceanfront property is still undervalued in relation to similar locales in Florida," says Zana.
"I don't see the trend changing. It is supply and demand."