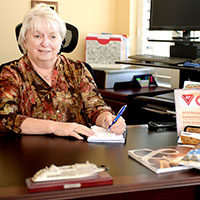 Islanders eager to travel after year of pandemic lockdown
STORY BY STEPHANIE LABAFF (Week of May 13, 2021)
Photo of Frosch Indian River Travel agent Doris Kwek

Many island residents have their suitcases packed and travel brochures in hand. They are ready to travel again – someplace, anyplace – booking trips within the country and around the world for this summer and fall, and the coming year.
Local travel agents say they have seen a significant increase in sales as people seek to satisfy their wanderlust after more than a year of pandemic-related lockdowns and travel restrictions.
This summer's national park excursions, U.S. rail trips and river cruises are almost fully booked, according to Carol Matulonis, a luxury travel specialist who owns a Cruise Planners franchise
"This year, we have become great experts on the national parks and doing stuff in the United States," Matulonis says. Grand Canyon, Acadia, Badlands, Glacier, and Yellowstone national parks are popular destinations.
"United States travel has been really big. We predict that 2022 will be sold out. If someone wants to travel in 2022, they need to be making those reservations now," says Matulonis, adding that some of her clients are trying new forms of domestic travel, chartering private jets for U.S. vacations with small groups of friends and family in lieu of their usual European travel and worldwide cruising.
At the same time, a brave handful of Vero travelers have begun to venture abroad, as countries around the world slowly reopen to foreign visitors.
Case in point is local artist Xaque Gruber, who recently returned from a trip to the Bahamas. "I am a traveler," Gruber says. "Before COVID, I was in Denmark, France, Switzerland, England, California – all over the place – and I miss traveling."
Gruber had never visited the Bahamas and was thrilled to hop on a plane to attend a friend's wedding. "The Bahamas, they were so fantastic about COVID protocols," he says, recounting the requirement of a negative COVID test before entering the country, subsequent rapid test upon his arrival and a $5,000 fine if you removed your mask.
"Traveling there was a complete and total joy, and I can't wait to travel to other places," says Gruber, noting plans to visit Maine and California in the near future. He'll head to England as soon as international travel restrictions ease further.
Ivy Tjok, president of Prestige Travel Agency, says extensive international travel plans may be a bit premature. "Most clients going now are looking for U.S. travel because travel outside of the U.S. is still very limited," Tjok says. "Everybody needs a vacation, but I think this year, it's still very much a challenge [to travel abroad]."
Despite that cautionary note, the Centers for Disease Control and Prevention recently announced the No Sail Order in effect at U.S. ports could be lifted by midsummer, and islanders are eagerly booking international cruises, sometimes several trips at once.
Cruise ships are already setting sail from some foreign ports and if you are adventurous and can't wait to hit the high seas, you can fly to Greece, Iceland, the Bahamas or elsewhere to embark on a cruise this summer.
That said, most island residents planning cruises are booking for 2022.
Jane and Jerry Weick were forced to cancel three back-to-back cruises last year due to the pandemic. They've now rebooked to different locations in 2022 and 2023.
"We want to be on the safe side," says Jane Weick. "I'm very confident things will be safe by then. We are on Norwegian-based products. If they do what they say they are going to do, I can't imagine there will be a terrible problem."
The bumper sticker on Trudie Rainone's car says, "My other car is a cruise ship." Anyone who knows her, even in passing, can attest to the fact that she'd rather be cruising.
She returned from Dubai and South Africa only weeks before the global lockdown last year and has booked a New Zealand and Australia cruise for early 2022 and a New England Coast cruise to Quebec in the fall of 2022.
"I'm supposed to be on a cruise right now – a trans-Atlantic and Rhine River cruise – but that was all canceled and postponed until next year," she says.
Rainone is ready to sail again, right now, but has another trip to make first. "I haven't seen my grandkids [for a long time and] I'd rather see my them first." She's headed to the Northeast this week to do just that.
Elke and George Fetterolf canceled a trip to Dubai and a cruise to Antarctica last year. They have since rebooked the Antarctica cruise for January 2022, but have stuck to U.S. travel since the pandemic hit.
The couple has taken several road trips during the pandemic, motoring to southern destinations within driving distance and taking advantage of the auto train. "We stayed in our timeshare and visited with family and friends," says Elke Fetterolf, noting the trips were "a welcome change of pace."
Some locals who had plans for Alaska cruises that were stymied because ports aren't open between the U.S. and Canada have found a workaround, according to Frosch Indian River Travel agent Doris Kwek. She says clients chomping at the bit to head north are driving across the border and making their way to Alaska despite the ship ban.
Kwek says she's had a notable increase in travel inquiries this spring with most clients booking for the fall and into 2022, sometimes signing up for three or four trips at a time to ensure they don't miss out.
"People are booking all kinds of cruises and international trips for this fall," Kwek says, adding that her clients feel most of the wrinkles with vaccine requirements, quarantines, curfews, and border crossings will have been ironed out by fall, and hotels, restaurants, and tourist destinations will be open for business.
Tjok warns that with the ever-changing COVID rules and regulations, it is more important than ever to book travel through travel agents so they can help you navigate new requirements. Travelers who previously booked for themselves are likely to find outdated information on the Internet.
"We have special programs that we use to get this reliable information so that when the client is booking a trip, we can guide them and give them the correct information," says Tjok.
She adds that travelers should have travel insurance, COVID medical insurance coverage in case you test positive while out of the country and trip cancellation insurance in case you get sick prior to travel or the company cancels the trip.