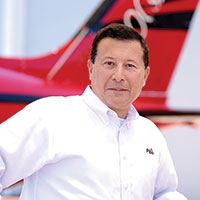 New CEO: Piper to invest more in engineering, R&D
STORY BY RAY MCNULTY (Week of May 27, 2021)

Piper Aircraft's new acting president and CEO John Calcagno has a background in finance, with an accounting degree and nine years as Piper's chief financial officer, but he is much more than a bean counter.
A seasoned executive who said he is "big on innovation," Calcagno likes to get out of the executive suite, and walk over to the hangar where his research and development team is at work "to see what they've got going on."
In that hangar, which looks like "something you'd find at Google or Yahoo," Calcagno's R&D guys have already begun reassessing engineering projects, determining which ones will be given priority, and he says there are new projects and products that could become public in the not-too-distant future.
"We're working on things. I wish I could tell you [more]," he said, "but I can't – for competitive reasons.
"In any industry, especially in general aviation, you have to develop new products and find ways to improve the ones you already have," Calcagno added last week during an interview with Vero Beach 32963. "So, while I'm committed to maintaining the highest standards for quality ... we're [also] going to invest more in our engineering and research-and-development efforts."
While it seems unlikely that Piper, which began building aircraft at the Vero Beach Regional Airport in 1961, will resurrect the small-jet project canceled 10 years ago by his predecessor, Calcagno replied, "I'm not ruling anything out."
Calcagno, who joined Piper in 2010, was promoted to the top leadership position April 6 after nearly a decade overseeing financial reporting, treasury, and cash management, as well as information technology and enterprise resource planning.
Though his background is in accounting – he earned a bachelor's degree in accountancy from Southern Illinois University and began his career in the audit unit at PricewaterhouseCoopers – he has extensive experience in operations, distribution and sales as well as finance.
Calcagno also served in the U.S. Air Force and remains, as he put it, "fascinated by aeronautics."
"Being in finance, you understand the entire operation," Calcagno said. "You know how much everything costs. You know how everything works. You have relationships that reach beyond the company, such as with dealers and customers. You're on top of it all.
"So, moving into this position can be seen as a natural progression," he added. "It doesn't always happen this way in business, but it did for me and I'm eager to meet the challenges that come with the job."
He already has met a few – not the least of which was stepping in to replace former CEO Simon Caldecott, who retired April 2 after leading Piper for 10 years and spending 47 years in the aviation industry.
Caldecott was the driving force behind the decade-long resurgence of the county's largest private-sector employer. After suspending Piper's troubled jet-development project as his first order of business, he turned the company's focus to its M-Class line of single-engine business aircraft.
It was on Caldecott's watch that Piper launched the luxurious M600 turboprop, which has become a huge seller and the company's flagship product.  He also expanded its offerings in the trainer aircraft market.
During his tenure, Piper embraced Garmin's Emergency Autoland technology – a major safety upgrade that can completely take over landing a plane – and installed it on the new M600 SLS aircraft.
The company's successful ascent under Caldecott's leadership ran into heavy turbulence in 2020 as the pandemic hit the general aviation industry hard, with flight schools shutting down or going to online training that didn't require new airplanes.
Piper's leadership team successfully navigated through the rough patch by continuously monitoring the global aircraft sales market and adjusting the company's production and delivery schedules, but Calcagno said the strain of trying to keep the company profitable during the pandemic was exhausting.
"Certainly, as the company's CFO, I know as much as anyone how challenging a time this has been," Calcagno said. "Everything was going great before COVID, but it's difficult to be in the manufacturing and sales business – where you're highly dependent on customers – and the customers aren't there.
"Half of our business is flight schools, and they weren't flying," he added. "So, you have to find new sources of revenue, but that's difficult to do during a pandemic, unless you're one of the big drug companies selling vaccines.
"Also," he continued, "because flight schools weren't flying, they couldn't pick up the planes they ordered and our ramp was full, which posed another financial challenge. It wasn't easy.
"You could've had Lee Iacocca come in here, and it still would've been tough."
Piper began reducing its payroll through attrition when the pandemic hit in March 2020, and over the past 15 months, its workforce has shrunk – without layoffs – from nearly 1,000 employees to just over 900.
Now, as the pandemic eases across America, Piper faces a new challenge – hiring the 75 to 100 staffers it needs to meet its rebounding production demand. Most of the openings are entry-level jobs on the factory floor, where the average starting pay is $14 to $16 per hour plus benefits.
"It's another huge challenge, and a different challenge," Calcagno said. "We don't have enough employees, and we can't find any. But we're working on it. We're actively recruiting and advertising on job boards, and we have an on-site job fair coming up."
He said the company needs to hire more workers to meet its current production schedule, and he values the contributions of entry-level employees.
"I grew up in Flint, Mich., and my father worked on an assembly line," Calcagno said, "so I have respect for the workers in our factory and I'm supportive of the labor force we have.
"In this position, I have a responsibility to not only our shareholders, but also to our employees, who do these jobs to take care of their families," he added. "These workers and their families are a vital part of this community, and that means something to me."
Piper has remained mum on when Caldecott's permanent replacement will be named, or if anyone other than Calcagno is being considered for the position.
Besides leading Piper, Calcagno serves on the Vero Beach Airport Commission and as treasurer of the Jimmy Graves Foundation.
"My family has had a home here for 25 years," Calcagno said. "I've always known the importance of Piper in Vero Beach, and I'm excited about the opportunity to continue our great tradition of building and delivering best-in-class airplanes."