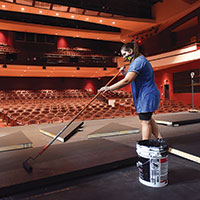 Riverside Theatre to reopen earlier than planned with full 2022 season of hits
STORY BY MARY SCHENKEL (Week of May 20, 2021)
Photo: Victoria Hood, assistant scenic charge, paints panels on the main stage at Riverside Theatre in preparation for Joseph and the Amazing Technicolor Dreamcoat this summer.

In another sign that things are getting better, the island's renowned playhouse, Riverside Theatre, announced it will reopen in January with a full season of big Broadway musicals and serious drama.
The theater, which went dark last spring as the pandemic dramatically descended, had planned to reopen in fall 2022, but changed course as public health conditions improved more rapidly than expected.
Riverside Theatre marketing director Oscar Sales said discussions about an accelerated reopening began earlier this year, as vaccines became more available, and the pandemic appeared to be waning. The theater made the decision to move forward with a January start even before Broadway announced that theaters in Manhattan would reopen in September. 
"We were always working toward the shows," said Sales. "We were fortunate enough to be supported by an incredible board, an incredible Friends committee and a community that supported us, so we never had to let any of our staff go."
As a result, he said, the production team continued designing and building sets during the forced hiatus, trying them out on stage, and making any necessary adjustments. 
"They just had a little more luxury, timewise, to make sure that everything worked perfectly, and they've been doing that," said Sales, adding that the theater plans to hold auditions in November, hopefully, in person in New York.
The first Stark Stage show will be Riverside's production of the beloved 1945 Rodgers and Hammerstein musical "Carousel," running Jan. 4-23. That will be followed by "Comedy of Tenors," Feb. 1-20, followed by "On Your Feet," which will run March 8-27 before that show moves to the Walnut Street Theatre in Philadelphia.
"Billy Elliot" will run April 12-May 1 and the season will end with "Almost Heaven: John Denver's America," May 10-20.
The two Waxlax Stage productions remain the same: "I love You, You're Perfect, Now Change," Jan. 18-Feb. 6, and "A Doll's House, Part 2," March 22-April 10.
Sales said that starting the season in January is proving beneficial in a number of ways. 
"Now we can concentrate on our big fundraisers in November. Rather than jam the first show into the fundraising season, this way we start in January and go all the way through May. It's a straight set of shows." 
And while they will follow whatever procedures Actors' Equity implements in terms of audience capacity and/or masks, the later start allows them to gauge conditions on Broadway and possibly other regional theaters. 
Financially, Sales said, Riverside Theatre is on solid ground, adding: "We're very, very grateful for all the support that we have been shown."
When they were forced to shut down, he said some refunds were requested but the vast majority opted to ease the theater's financial burden by either donating their tickets back or carrying them forward into the new season. Additionally, the Comedy Zone and Live at the Loop have continued to bring people onto the campus.
He said that Riverside did get some PPP funding, adding that "the majority of our continuation was board led and Friends led."    
Of their three major fundraisers, Festival of Trees, the Friends Fall Luncheon and the Gala, Sales said: "We're working on them. Festival of Trees is definitely coming back. What exactly that will be is still being worked out."
While there is no word on the Gala as yet, there is talk about the luncheon fundraiser. Riverside also plans to resume informative backstage tours, and adult classes in January.
"We're really talking about ramping up fully," said Sales.
Summer camps will once again be in-person, although tweaked as two performance camps, with participants in the first camp performing "Joseph and the Amazing Technicolor Dreamcoat" and the second camp performing "Puffs." 
"We are moving forward with everything; I can't tell you how excited I am.  People are excited to come back to some sort of normalcy," Sales said.  "All indications are trending the right way."