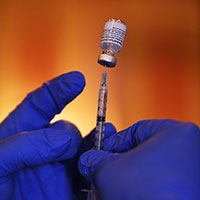 Vaccinations here down sharply last week; infections remain low
STORY BY LISA ZAHNER (Week of May 13, 2021)

Statewide, 13 percent fewer Floridians got vaccinated between May 3 and May 9 compared to the previous seven days, but in Indian River County the one-week decline in vaccinations was even more dramatic as 47 percent fewer local residents were vaccinated, according to state reports.
The drop coincides with the closing of the Indian River County Health Department's vaccination site at the county fairgrounds on April 30, shifting the vaccine effort to walk-in vaccinations at the Health Department office on May 5.
As of press time Monday, county officials could not say if there was a glitch in the data or a reporting error in regard to the number of vaccinations. Each vaccination site, hospital, clinic and pharmacy reports its own numbers, so the only source for the compiled countywide vaccination data is the daily state report.
The number of new infections locally remained low like last week, with an average of 17 people testing positive for COVID-19 per day, and a total of eight barrier island residents testing positive all week. The case positivity rate ranged from 2.59 percent to 6.32 percent in the seven days leading up to press time Monday. That rate has exceeded 5 percent just three times in the past 14 days.
Hospitalizations of people with COVID-19 illness remained low this week, with only six people hospitalized at press time Monday, but only 28 percent of intensive-care beds countywide were available, according to the Florida Agency for Healthcare Administration's real-time reporting.
As school children prepare for end-of-term exams, graduations and summer vacation in coming weeks, the Food and Drug Administration has expanded its Emergency Use Authorization of the Pfizer-BioNTech COVID-19 vaccine to children ages 12 to 15.
The Centers for Disease Control advisory panel on vaccines is expected to meet soon to consider updating CDC guidance to include these pre-teens and teens. Clinical trials on younger children are ongoing, with the data expected sometime this fall.