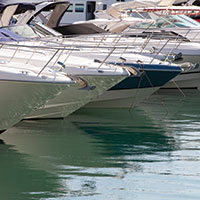 Vero considering use of Big Blue for temp boat storage
STORY BY LISA ZAHNER (Week of May 13, 2021)

A shortage of space to store boats after a pandemic boat-buying boom has the City of Vero Beach considering an unorthodox way to repurpose an unused asset – by renting out storage space inside the Big Blue power plant building.
The National Association of Marine Manufacturers reported a 13-year record year for boat sales in 2020, with year-over-year increases of around 40 percent and 320,000 boats sold nationwide.
After a slump at the start of the pandemic last spring, boat sales soared in the fall and winter and don't seem to be slowing down much. NAMM reported in March that February sales were up 21 percent over the same month last year. Sales of recreational vehicles also skyrocketed, and boats compete with RVs for storage space, compounding the problem – especially for people who own large boats.
The Big Blue solution is still only a concept – suggested by former Vero councilman Brian Heady – as the matter just came up at last week's Vero Beach City Council meeting, and there's a bit of red tape in the way.
The building belongs to Vero taxpayers, but city officials can't just open the doors and let people drive their boats in. Security shouldn't be an issue as the larger power plant area is fenced and off-limits, but someone would need to manage the facility.
"Jason Jeffries is looking into whether the power plant site is properly zoned for storing boats," said Vero City Manager Monte Falls on Friday. Liability is also a question, which city staff will investigate and report on to the City Council.
Best-case scenario, storing boats in Big Blue would be a temporary fix until a new, expanded dry storage facility is completed at the city marina, where a major facility overhaul is underway. Falls said it will be roughly a year until the boat storage building is ready for customers, six months of design, permitting and grant writing and six months of construction.
The city's current dry storage facility is full and the waiting list for spots is mounting. Even if a spot opens up, Falls said the city can only accommodate boats up to 24 feet, which leaves owners of larger boats up a proverbial creek.
Boat owners have been begging to reserve their spot in the planned marina dry storage building, and the idea is that those waiting for a spot could safely store their boats in Big Blue and then transfer the boats to the new building once completed.
Plans for the riverfront development still need to go to a referendum in November, so nothing would be built on the site in a year's time. Big Blue would not be an option for people who need to pull their boats in and out frequently, and there's no boat ramp on the site so boats would need to be hauled off-site to launch.
Vero Beach 32963 called a half-dozen boat storage businesses in the Vero Beach area and none had space to offer, but a few had interesting insights.
Storage space is more plentiful during the winter as boats are on lifts at docks or in the water, said Peggy Coleman, office manager at Complete Marine, which sees many barrier island clients. All of their spots are full, and Coleman said she doesn't see that changing.
"We don't have a lot of turnover; we have repeat customers every summer. They can't keep their boats on lifts when they go away because of hurricanes," she said.
For seasonal residents needing a safe harbor on land for the summer hurricane season, Big Blue could offer that kind of storage. It would seem to make sense for someone purchasing a boat to figure out where they will store it before making the purchase, but Coleman said that's not the case.
"It's like a new car. You get on the lot and you get that fever that you just have to have it," she said. "They don't think about the fact that they live in a deed-restricted community and they can't have it there."
Karen Ekonomou, who owns Dixie Dez Properties storage facility with her husband, said she's experienced the same thing – frantic calls from new boat owners who incorrectly assume that boat storage space is plentiful until they try to find a spot.
"I get calls for people who have already picked up their boat and are on the way home and they didn't realize that their homeowners' association won't allow them to park it at their house," she said.
Dixie Dez off U.S. 1 and Oslo Road is completely full and Ekonomou said all the storage businesses she typically refers her overflow to also are full. "It started last year, almost coinciding with the pandemic and it's not just boats. Sales of RVs went crazy too, and people need places to store their RVS. I have had tenants wait six months for a new RV the demand was so high," she said.
So why can't someone who owns a vacant parcel capitalize on the hot boat and RV market and open a storage yard? The Ekonomous converted vacant land to storage five years ago, but Karen Ekonomou said it's not as simple as it sounds.
"You have to have property that is zoned heavy industrial and there's very limited  industrial property left. You have to rock or pave the whole place. You have to secure it, and there's also the maintenance. You have to have the proper permitting and have a water retention area," she said.
Security is very important, too, she said, as boat storage lots are prime targets for outboard motor thefts. Dixie Dez recently installed more than $30,000 in security upgrades and "checks every boat every day," Ekonomou said.
Indoor dry storage with controlled access solves the security issues, but that space comes with a hefty rent – a price barrier island residents apparently don't mind paying in an era of extremely high demand.
Vero Marine has experienced the explosion in boat ownership in a big way. They have no available space in their storage facility and haven't for several months, said Todd Chandler, who manages the ship's store. Having the storage area brimming with boats – and boats flying off the sales lot – goes beyond business as usual. "It's new in how fast it happened," Chandler said. "So many boats have been sold in the past year that the storage has not caught up."
Vero Marine has nowhere to expand on its current footprint. "The only way we could expand is to buy more land somewhere," said Chandler, who thinks boats will continue to be very popular as people move to the area and adopt the Florida coastal lifestyle, and new people discover or re-discover boating.
"It's been about 50-50, about 50 percent of the sales have been to new boat owners," Chandler said. "It's something you can do and get away from everybody, and in the pandemic people haven't been spending money on elaborate vacations so they can afford a boat."
Even if sales eventually drop off as international travel opens up, or if locals sell their pandemic boats in a few years, that won't reduce the demand for storage because the buyers of those used boats will still need a place to keep them, Chandler said.
Coleman of Complete Marine agreed that the surge in boat ownership is more than a blip in the market. "I doubt the new boat barn [at the marina] will be big enough to handle the demand," she said.