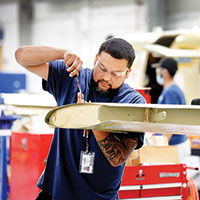 Worker shortage hits even companies like Piper
STORY BY RAY MCNULTY (Week of May 20, 2021)

It isn't just restaurants and retail shops that are having a hard time hiring enough workers in the wake of the pandemic.
The squeeze is being felt up and down supply chains and across industries, hitting companies as diverse as Cheney Brothers – a food service distributor whose trucks can be seen daily making their rounds – to Piper Aircraft, which is trying to hire 75 to 100 new staffers to meet increasing production demand.
A small number of the Piper openings are for higher-paying and highly specialized positions, but most are for entry-level jobs on the factory floor, where the average starting pay is $14 to $16 per hour.
"Not only do we train the entry-level people, but they also receive a full benefits package," Piper spokeswoman Jackie Carlon said. "So, if you haven't gone to college – if you're a high school graduate with a great work ethic – this could be a good way to start a new career."
Carlon said Piper began reducing its payroll through attrition when the COVID-19 pandemic hit in March 2020 and flight schools were closed, eliminating the need for additional trainer aircraft.
Production fell nearly 16 percent from 290 total aircraft in 2019 to 244 in 2020, with the company's wildly popular trainers accounting for the bulk of the decrease.
"The flight schools went to an online training format," Carlon said, "which meant they didn't need airplanes."
Piper's executive leadership successfully navigated through the pandemic's turbulence by continuously monitoring the global aircraft sales market and making the necessary adjustments to the company's production and delivery schedule.
Among those adjustments was a decision to postpone work on trainers – especially when purchase contracts weren't finalized – and focus on the company's other products, particularly its luxurious M-Class line of single-engine, turbo-prop aircraft.
"We didn't know what to expect when the pandemic first hit, because we had never been through anything like it before," Carlon said, "so we tried to minimize our risks."
Over the past 15 months, Piper's work force has shrunk – without layoffs – from nearly 1,000 employees to 900.
Now, though, as flight schools reopen and Piper's production increases, more workers are needed.
"The trainer market is still down a little bit because flight schools are still ramping up," Carlon said, "but we have a healthy production schedule for our M-Class line for the remainder of the year."
Unlike some other industries, such as residential and commercial construction, aircraft manufacturers aren't experiencing crippling and costly interruptions in their supply chain as a result of the national worker shortage, Carlon said.
Piper has seen some slowdowns in the delivery of avionics, engines, tires and propellers, but Carlon said the delays have not caused any halts in production.
"A lot of businesses are feeling it, and we're no different," Carlon said of the worker shortage spawned in part by the federal government's supplement to states' unemployment payments during the pandemic.
"It's a common thread in our industry, too," she added. "It just hasn't hit us as hard."
But can Piper attract the workers it needs when so many people are still choosing to stay home or have found new jobs they like?
Carlon said the company has been advertising its open positions on online job boards and in a variety of publications. She believes the starting pay, benefits and training will attract workers.
"The good news is, a lot of people have moved to Florida, and especially the Treasure Coast," Carlon said, "so there should be more people looking for work."
She also touted Piper's accredited, two-year apprentice program, which offers a combination of on-the-job training and Indian River State College classroom instruction designed to qualify participants as a journeyman in aircraft assembly.
Piper does not require COVID-19 vaccinations as a condition of employment, but Carlon said they're strongly encouraged.
"We offer them here," she said. "The Whole Family Health Center comes in and does it."