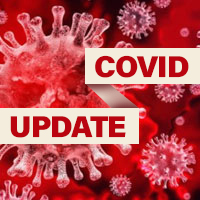 COVID remains low here on eve of Thanksgiving
STORY BY LISA ZAHNER (Week of November 25, 2021)

As local residents traveled or welcomed out-of-town family to celebrate Thanksgiving, Indian River County's new COVID-19 daily case rate remained in the single digits for the fifth straight week with only 48 new cases reported for the seven days ending Nov. 18.
Nearly 72 percent of the adult population of the county is now fully vaccinated. Taking all age groups into account, 118,942 people out of 160,707 local residents have had at least one COVID vaccine shot.
The Florida Department of Health reports that nearly 600 people received jabs of COVID vaccine the week before Thanksgiving, as booster shots were made available to all adults at the close of last week.
Since the start of the pandemic a little more than 20 months ago, 22,234 local residents have tested positive for COVID-19 at a testing site or medical office that reports test results to the Florida Department of Health. With the increased availability and popularity of home COVID tests sold online and at local pharmacies, the real number of people who had mild cases of the virus and recovered is likely much larger.
Hospital admissions remained low over the past week, with the Centers for Disease Control and Prevention reporting four hospital admissions here.
Legal challenges to federal vaccine mandates made big news last week, with the Occupational Safety and Health Organization suspending enforcement of most vaccine mandates on private businesses and the Florida Legislature passing sweeping bills against most vaccine mandates in Florida. The new laws were signed by Gov. Ron DeSantis and took effect immediately.
Just in time for Vero's busy tourist season, the first waves of fully vaccinated international travelers from across the Atlantic began arriving at Florida's airports earlier this month. Delta, American, Lufthansa and Virgin Atlantic airlines all reported heavily booked flights reflecting pent-up demand as most international travel into the U.S. was halted for more than a year and a half due to the pandemic.