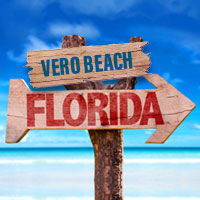 Canadian snowbirds once again able to drive to Vero Beach
STORY BY AMANDA COLETTA AND STEVEN M. THOMAS (Week of November 11, 2021)

The snowbirds are coming.
On Monday, for the first time in more than 19 months, fully vaccinated Canadians were allowed to drive across the U.S. land border for such nonessential purposes as tourism or family visits.
The reopening is being cheered by the Canadian snowbirds who prefer to drive to Florida; last year they were only allowed to come south by air, curbing the annual migration.
"I think we will start seeing more Canadians," Vero Beach realtor Heather Delamarter said Monday.
Delamarter, who manages rentals for Berkshire Hathaway on the 32963 barrier island, said she has seen an increase in recent weeks in calls from Canadians anticipating the lifting of the travel restriction who want to rent a place in Vero for the winter.
"I only have four places still available out of 200 I manage," Delamarter said, adding that Canadians driving south will need to get here fast to find a spot.
But while there is no impediment this winter to them coming this way, snowbirds returning north next spring will still need to present a negative coronavirus molecular test result to Canadian authorities within 72 hours of crossing back into their home country.
While this may be an acceptable price to pay for the ability to spend the winter out of the cold, lawmakers, businesses and residents say the costly requirement – some tests are $200 – will deter Canadian day-trippers, shoppers and families from crossing back and forth across the border.
"We know there's going to be a bump in southbound traffic, but we know it's going to be limited," said Corey Fram, director of tourism for the Thousand Islands International Tourism Council.  "It's not where we want to be just yet."
Canada and the United States closed their land border to nonessential travel in March 2020. Trade and the movement of essential workers continued. But the curbs strained personal relationships, hit the tourism industry and upended life in ways large and small.
Canadians initially backed the restrictions as they watched the cases of COVID-19 surge in the United States. But as one month turned to six and then 12, pressure mounted among some lawmakers, business groups and residents in both countries to begin relaxing the controls.
Canada welcomed fully vaccinated Americans in August. But the United States declined to reciprocate, a decision that deepened frustration.
In 2019, about 15 million tourists visited Canada from the U.S., according to Statistics Canada. They made up two-thirds of Canada's tourist arrivals. Most traveled by car.
From Aug. 9, when Canada began allowing fully vaccinated Americans to cross its land border, to Oct. 24, the most recent date for which data is available, there were an average of roughly 167,500 noncommercial crossings per week, according to the Canada Border Services Agency. That's 15 percent of the average volume over the same period in 2019.
"Even though we did in early August open up the borders to American visitors … we definitely did not see any huge impact or a real change," said Bill Stewart, the executive director of the 1000 Islands Chamber of Commerce in Gananoque, Ontario. 
Many of the Americans who have crossed have been people with relatives or cottages in Canada, he said; far fewer have been day-trippers.
Some business groups and lawmakers have urged Canada to drop the test requirement. Rep. Brian Higgins (D-N.Y.), co-chairman of the congressional Northern Border Caucus, is among them.
Theresa Tam, Canada's chief public health officer, said last week that the testing requirement is being looked at "quite carefully."
Amanda Coletta writes for the Washington Post. Steve Thomas is a 32963 staff writer.