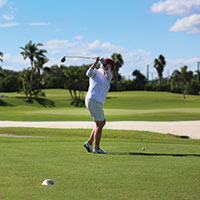 Grand Harbor golf course opens after $2 million facelift
STORY BY RAY MCNULTY (Week of November 4, 2021)

With the club's Harbor Course in need of renovation, Grand Harbor members wondered what changes Pete Dye – the World Golf Hall of Fame architect who designed it – would make to the layout to challenge today's players.
Now they know.
Though Dye died in January 2020, Grand Harbor brought in his protégé, Chris Lutzke, to oversee the six-month project, which drew rave reviews from members who celebrated the course's reopening last week with a two-day tournament that attracted nearly 200 golfers.
"The golfing members were all smiles," said Doug Sweeny, former president of the Grand Harbor Members Association and one of 192 participants in the 5th Annual Grand Harbor Cup event.
"The most noticeable improvements were the amazing quality of the greens, which were cut to perfection with none of the incursion of foreign grass that was there before," he added. "But the fluffy sand in the greenside bunkers and the newly designed bunkers and waste areas also were well received.
"The course was perfect," Sweeny said.
Lutzke, who had collaborated with Dye on more than 30 course designs, wanted to preserve his mentor's vision for the traditional Scottish links-style layout, which was completed in 1988.
But he introduced subtle enhancements, particularly to the greens and bunkers, that he believed Dye would have embraced to accommodate today's game and golfers.
On some holes, Lutzke and his team moved bunkers closer to greens. On others, he added multiple smaller bunkers.
"We converted the bunkers back to how Pete would want them – with flat sand and grass faces," Lutzke said. "We kept the bunker faces steep, which enhances the shadowing at certain times of day. Pete always loved the shadows that his bunkers would cast as the sun was setting on an afternoon round."
The most dramatic changes were to the No. 3 hole, which was designed entirely by an unknown architect hired by the developer, Icahn Enterprises, after a land swap altered Dye's original layout.
Lutzke, with the backing of the members, relocated bunkers and reconfigured the hole in a way that he believed Dye would've designed it.
"We wanted to bring the course into 2021, and we brought Chris in because we wanted to answer the question: What would Pete do?" Gibson said. "Structurally, it really hasn't changed much. We tweaked it.
"It's essentially the same course, but with a whole new look."
The Harbor Course was closed May 1 to allow Lutzke's crew to embark on the $2 million facelift. The club's River Course also underwent some sprucing up this past summer.
Gibson called the course renovation, along with recent enhancements made to Grand Harbor's beach club and improvements made to its food-and-beverage service, the "first taste of where we're going."
He said the members have responded favorably to the speed with which the club has rebounded from the toxic environment that existed prior to their purchase of the facilities and takeover of the club's operations on Dec. 1, 2020.
"We've come a long way from where we were a year ago, when members were walking around like zombies with their heads down," Gibson said. "There's a resurgence going on, and you can feel it.
"We've brought in a lot of new members, and many of the previous members who left are coming back," he added. "I think a lot of people are surprised that we've been able to turn things around so quickly, but the club is vibrant again.
"Everyone's excited about the future."
The 900-acre Grand Harbor development is one of the largest and most popular country-club communities in the Vero Beach area. Its mainland footprint includes extensive lagoon-front property, two golf courses, a 32,000-square foot clubhouse, a 12-court tennis complex, and a picturesque marina with more than 100 slips.
On the island, the Grand Harbor Beach Club features an Olympic-size swimming pool and oceanfront dining.
Gibson said Grand Harbor's membership is approaching 700, and half of the new members don't live on the premises. Many of them are also members of other local clubs. Some were on other club's wait lists.
"We're back with both golf courses, and we're just getting started," Gibson said. "Nothing is going to stop us from taking the club to where we want to take it."