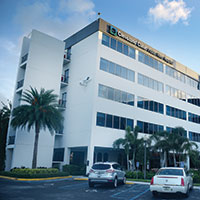 Hospital workers now facing covid vaccine mandates
STORY BY MICHELLE GENZ (Week of November 18, 2021)

Workers at Cleveland Clinic Indian River Hospital and Lawnwood Medical Center are now facing separate corporate-wide COVID-19 vaccine mandates after Cleveland Clinic in Ohio and Lawnwood's parent company, HCA, set nationwide deadlines for the shot.
Cleveland Clinic Indian River Hospital's parent company announced it is implementing a vaccine mandate with a deadline of Jan. 4. That would put the hospital in compliance with the Biden administration deadline for vaccination of all healthcare workers in companies participating in Medicare or Medicaid.
"Under the CMS rule, employees who are not fully vaccinated by Jan. 4, 2022 and who do not have a religious or medical exemption that can be accommodated will no longer be able to work for us," said  Dr. Greg Rosencrance, president of Cleveland Clinic Indian River.
The CMS rule states that employees under the mandate must have the first of a two-shot vaccine by Dec. 6, or the single shot Johnson & Johnson vaccine "prior to providing any care, treatment or other services."
Cleveland Clinic has 68,000 employees around the world, with more than 2,000 in Vero Beach.
News outlets in Ohio published a statement that said Cleveland Clinic had already implemented a vaccine validation program across its U.S. facilities to compile the vaccination status of all employees.
The health system said 80 percent of its workers nationwide are already vaccinated. Rosencrance said 76 percent of its workers here have gotten the shots, up 2 percent from two weeks ago.
Last week, the CEO of HCA sent an internal email to staff telling them they needed to be fully vaccinated by Jan. 4. HCA said most of its 280,000 employees were already vaccinated. HCA has 200 hospitals, 49 of them in Florida including Lawnwood in Fort Pierce.
The Biden healthcare worker vaccination mandate allows for medical or religious exemptions but does not include an option to be regularly tested in lieu of vaccination, as the administration's mandate for business does. The mandate also does not recognize natural immunity gained by front-line healthcare workers who have gotten sick on the job from the virus and recovered.
The science is still inexact on how long vaccine protection lasts, as studies by the vaccine makers show the duration of protection can be different for each individual – but the mandates are one size fits all. How long will healthcare workers vaccinated in the first wave of the vaccine rollout nearly a year ago be considered "fully vaccinated?" Will booster shots be federally mandated soon for early adopters of the COVID vaccines? These are questions which, as of today, have no answers.
There has still been no word on a mandate from Steward Health, operators of the much smaller Sebastian River Medical Center. Steward operates more than 40 hospitals in the U.S. and Malta, including two hospitals in Brevard County.
Requests for information about Steward's vaccine policy were not responded to by press time Monday.
The federal vaccination mandates come as the Florida legislature is in a special session called by Gov. Ron DeSantis to deal with a mostly watered-down slate of anti-mandate bills.
The move for a special session was also opposed by many large companies in Florida that have already imposed vaccine mandates, including Disney and Walmart. And LeadingAge Florida, a organization representing long-term care businesses, asked that facilities be carved out of any ban on mandates so that workers in that sector would still fall under the federal mandate.
Meanwhile, hospitalizations for COVID-19 dropped into the single digits in Indian River County last week, as the Delta surge that hit early and with ferocity in Florida receded to levels seen in early summer.
As of Monday the Centers for Disease Control and Prevention Data Tracker categorized Indian River County as an area of "low community transmission," with fewer than 10 new cases of COVID-19 per day on average, and a case positivity rate of 1.72 percent. At the height of the Delta surge, the local case positivity rate spiked higher than 25 percent; 70.9 percent of Indian River County adults are now fully vaccinated, according to the CDC.
Whether that trend continues – or whether the holidays bring an influx of infections from northern states, where the variant is accelerating – won't be clear for another few weeks at least.
The downward trend in cases and hospitalizations was enough to cause the local pro-mask, pro-vaccine Mask IRC Facebook page to temporarily suspend its posts, with an announcement last week that it was archiving all information and bidding #farewellCovid to its 2,000 members.
"We've reached the point again where all really useful information has been shared, and the virus is retreating," posted the Facebook group's co-founder, Tess Whelan. "Hopefully we don't see you here again." The site's user-generated Dining Out Guide is still searchable, with tips on which restaurants have the safest scenarios in terms of outdoor dining and masked servers.
Another volunteer admin on the MASK IRC site, Paul Seldes, said the Facebook group could easily be revived should COVID numbers reverse their decline as people become increasingly lax in habits like hand-washing and mask wearing. He cites a particularly active flu season as a sign those changes in behavior are already happening.
It was only August that Florida was considered the worst hot spot in the nation. Three months later, the state has the lowest case rate in the country. Explanations abound, but have yet to be ascertained: Did the virus burn itself out? Did enough people get the vaccine? Or did enough people who refused vaccines get sick and get some immunity?
Some, including Seldes, say case numbers may be unreliable due to the increased use of home tests. "Those positives are never recorded," he said.
Still others point to changes in the state's COVID reporting last June that stopped including cases in out-of-state residents.
Snowbirds are coming down in droves as temperatures fall and COVID counts rise in states to the north. The upcoming holidays, on top of mild weather here, could make for a busier – and riskier – season in Vero.
Regardless, visitors aren't the only ones wanting to take advantage of lower numbers.
At Whole Family Health Center, practitioners are hoping to pack their appointment books with people getting treatments and tests they have been postponing.
"We are trying to move into a more normal phase and play catch-up on regular medical care," said Dr. Gerald Pierone, the clinic's medical director and an infectious disease specialist who has been very involved in COVID care locally.
Pierone lists mammograms, cancer screenings, diabetes care and preventive care as among the medical needs neglected during the pandemic. With a staff that is already 100 percent vaccinated, vulnerable patients can feel more secure going to a doctor's visit at the clinic.
That security should be the case increasingly as the vaccine mandate for healthcare workers approaches its Jan. 4 deadline.
That includes young children coming in for vaccinations. Pierone was expecting his first shipment of pediatric vaccines this week.
For parents wanting their children protected, the vaccines can't arrive soon enough. Nearly 3,000 children aged newborn to 14 have tested positive for COVID in the county.