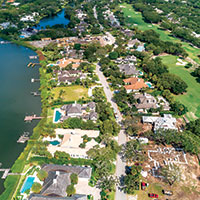 New home building boom ramping up at John's Island
STORY BY STEVEN M. THOMAS (Week of November 18, 2021)

When 32963 readers think of new development on the barrier island, few picture John's Island. They more likely think of the luxury homes and condos going up on the ocean at Surfsedge and or the condos rising at Blue at 8050.
John's Island – the largest and most renowned club community on the island – seems to many like a staid, established place that's been more or less a done deal for a long time.
But it's actually a dynamic hub of new construction and redevelopment where dozens of top builders, developers and architects from Vero, Naples and South Florida are tearing down dated houses and building beautiful new multimillion-dollar spec homes, many of which sell for more than the list price the day they are put on the market.
As the overall Vero home market continues to sizzle with a flood of new buyers competing for scarce listings, there has been "an exceptional uptick in new construction home sales" in John's Island, according to Mandy Robinson, director of marketing at John's Island Real Estate Company.
"October used to be a dead month for us, the time when people scheduled vacations, but this year we had already set an unbelievable sales record for October by the middle of the month," said owner/broker Bob Gibb.
"There's definitely been a ramp-up in building at John's Island this year and new homes are selling faster," said Charles Croom, who oversees building and remodeling in John's Island for Croom Construction, which was founded there 40 years ago by his father, David Croom, and continues to be the most active builder in the community. "We have five new home projects underway right now."
And a bunch more in the pipeline.
Harry Howle, the dean of John's Island architects who designs most of Croom's homes, says he and the builder have "30 projects on the books," including spec homes, custom homes and major remodels that create new homes out of old ones.
"It is incredible what has been happening in John's Island," said Ramie Darling, owner of Darling Construction in Vero Beach. "We tore down five homes in there this year. We're building some of the new homes this year and some next year. We actually have jobs lined up already that we won't start until 2023."
"I have two homes under construction currently," said Cathy Padgett, a John's Island member who has done a number of projects in the community. "I love developing properties in John's Island. It is one of the top clubs in the country and there is huge demand. It is a wise place to do development."
Bob Gibb and his team are the mainspring of the upsurge in new home development in John's Island.
They put the development lots on the market, close the deals, consult with builders, architects and developers about the type of product the market is hungry for, list the projects for sale and bring most of the buyers.
"Ninety-nine percent of the transactions flow through John's Island Real Estate," said Darling. "It is a very fair process where everyone has an opportunity to bid on the properties."
Gibb said most builders team up with John's Island members to do spec homes. "We very seldom see a builder on their own. They need the financing of the member."
Most development groups are small, with a builder, architect and a one or more investors. Once a property is purchased, the group sits down with Gibb, Robinson and their agent – all of whom live in the community and know it inside out – to figure out the best product for the location and market.
"Our knowledge of the club and community is quite unparalleled," said Robinson. "We provide input that helps the home live and sell better."
"We always consult with them," says Darling. "They have great insight that helps us tailor the product to the market."
"Bob and his team are our partners in the process," says Croom. "We have a good feel for what people want, but we seek their expertise as well. We are good listeners and stay open to suggestions, such as including a dedicated office in the design since people are working at home more than ever."
Next, the project is turned over to an architect like Howle, who estimates he has designed 300 homes in John's Island.
"They hand me the survey and I do all the calculations for size and layout, keeping in mind our budget and the architectural review committee requirements," he said. "Every project is highly site-specific, designed to take best advantage of the views and meet building code criteria for lot coverage, green space and square footage.
"Right now, the market is looking for four or five bedrooms and an outdoor area with a fire pit or barbeque, among other things, which we provide, but we also bring unique design elements to each home. We are known for that."
Once plans are finalized and approved, the development group decides when to put the project on the market. Padgett prefers to wait until late in the process, going so far as furnishing her home in some cases to provide a complete lifestyle design. More often the product is offered as soon as the plans are complete.
Many projects sell at that stage, based on floor plans, renderings and the builder's reputation, all with multiple offers and almost all over ask, according to Gibb.
"That was not typical in the past, but the market is amazing right now," said Robinson. "We've sold specs recently based just on the floor plan – before I even had time to create a rendering. People are that eager, and they can see from the floor plan that the house will suit them perfectly."
John's Island Real Estate doesn't list properties on the MLS but has a highly effective marketing setup with its website and agents' networks, along with a built-in clientele of people waiting in the wings who specifically want to be in John's Island, which Forbes just named the sixth best country club in the U.S. for 2021-2022.
"People are queueing up for a home in JI and staying in the queue for years," says Howle.
Spec homes currently for sale in John's Island include water and golf course view homes ranging in size from 4,468 square feet to 5,728 square feet priced from $5.15 million to $8.6 million. Square foot prices range from about $1,000 to $1,500 a foot.
Padgett, who inherited the development bug from her father, famed Vero developer Kenneth Padgett, listed an $8.6 million house last week. Located at 210 Coconut Palm Road, the waterfront home was co-designed by Padgett and her longtime architect Andrew Kirschner and built by Ed Reilly of Reilly Construction.
Begun pre-pandemic and slated for completion in January, the house comes with a range of distinctive features and finishes including entry gates reminiscent of the gates at the original John's Island beach club, custom gas lamps illuminating the half-acre lot, a $28,000 Sonos sound system with concealed speakers, an $8,000 mirror television and a wet bar paneled with the finest pecky cypress.
"We had three price increases on the cypress since we started but I will only use the best, widest boards," Padgett says.
She justifies pushing the John's Island spec home price limit by citing the house's quality and availability.
"It is going to be spectacular," she says. "I am very hands on, and I did not cut any corners. And it is the only spec that will be done by January. There is nothing else like it in JI and I guarantee there will be multiple offers."
Padgett built her Coconut Palm house on a lot she acquired years ago as part of a 1031 exchange, but most specs going up in the community are built on teardown lots.
Even though homes in John's Island are high quality and well-maintained, the club is ripe for teardown activity because many of the houses built in the 1970s and 1980s are below FEMA's mandated flood elevations, which makes it challenging to successfully remodel and modernize them.
If the cost of a renovation goes over half the value of the house, the entire structure has to be brought up to code, including having a higher elevation above sea level. Rather than try to raise and rebuild an old house, developers find it easier and more profitable to tear down and build new, giving buyers the style and features they are looking for in 2021.
Gandy says John's Island architecture has evolved over the past decade or so from the strictly Georgian style that prevailed for many years to a more transitional style that incorporates Georgian elements but is simpler and more casual.
"The architectural review committee has allowed us to peel off some of the heavier formal elements," he said. "The trend is toward more openness inside and more usable outdoor space, blurring the transition between indoors and outdoors."
"I have seen a real transition in style, especially in the past 10 years," said Croom. "It is exciting to see the gradual change, which is bringing a more modern flair."
Besides spec homes, many custom homes and major remodeling projects contribute to the flurry of demolition and building permit applications raining down on desks at the county building department.
"It is running flat out," said Howle of construction activity in the John's Island, which fills up each morning with pickups, concrete trucks and cranes. "I have never seen anything like this in my 40 years."