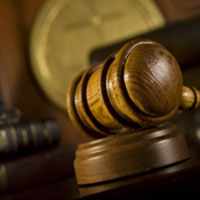 Nursing aides to go on trial for theft from John's Island couple
STORY BY LISA ZAHNER (Week of November 18, 2021)

A felony theft case involving two home-health nursing aides accused of charging more than a half-million dollars worth of fraudulent purchases to an elderly John's Island couple's credit cards in 2017 will likely go to trial in January, according to one of the attorneys prosecuting the case.
Chiquita LaShae McGee and Sophia Monae Shepherd (aka Sophia Brown) face charges for stealing from their elderly patients, Alfred and Michelina "Aline" Martinelli, by conspiring to defraud their banks and using more than $543,000 of the Martinellis'  money or credit for luxury purchases.
Both McGee and Shepherd were set free on bond after being arrested in the spring of 2018 and formally charged with the first-degree felony of Exploitation of the Elderly and the second-degree felony of Scheme to Defraud a Financial Institution.
The victims' family is not looking for financial restitution, according to Assistant State Attorney Lev Evans who is prosecuting the case – only for accountability for the crimes committed.
With Alfred Martinelli deceased and his widow Michelina in a long-term care facility, Evans has been pushing for more than two years to get some timely justice for the elderly couple, but circumstances and the COVID-19 pandemic did not cooperate.
In financial crime cases, it's customary for some business records such as receipts for purchases to be admitted into discovery via a formal affidavit of the official custodian of those records, usually a manager, bookkeeper or financial officer of the business, store or bank.
"We've had some witnesses from out of state who could not travel due to COVID, and getting some of the records has been a real pain," Evans said. "They were in lockdown, people were working from home and couldn't get to the documents."
For example, getting records of the hotel charges from The Plaza in New York – where the women allegedly stayed during a shopping spree on their clients' credit cards – has taken a very long time to negotiate, Evans said. Those receipts, plus other documentation such as cosmetic dental records and before-and-after photos of plastic surgery fraudulently charged to the Martinellis, are expected to be shown in court.
Town of Indian River Shores Public Safety detectives who investigated the case say McGee and Shepherd also bought clothing and jewelry items at Neiman Marcus and Ralph Lauren stores, rented a Rolls-Royce Ghost for transportation, enjoyed cruises and casino outings, charging all the bills to the unsuspecting Martinellis.
The Martinellis' daughter, who regularly dealt with Shepherd and McGee while they were employed as caretakers, is expected to be a key witness in January when she will finally be free to travel to Florida. Unfortunately for the state, 89-year-old Michelina Martinelli is no longer well enough to testify in person or by video, Evans said.
Shepherd and McGee are being tried and represented separately, so there may be two trials – or just one trial if either of the women accepts a plea deal and testifies against the other.
Court records prepared for a March 2018 bond hearing state that Officer Ken Barrett of the Shores "was able to specifically attribute $344,422.23 as having been fraudulently acquired from the victims by Chiquita McGee," so presumably the state has a stronger case against McGee and may try to entice Shepherd into a plea deal on lesser charges.
But the two defendants are related by blood, according to longtime Vero Beach defense attorney Bob Stone, who represents Shepherd, so that might preclude turning one against the other.
McGee had been represented by a private attorney, but Assistant Public Defender Christopher Walsh is now handling the case since McGee qualified for indigent status in May 2019.