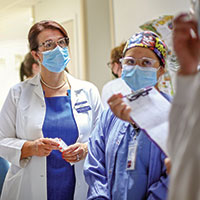 Shortage of nurses locally seen getting worse
STORY BY MICHELLE GENZ (Week of November 4, 2021)
Photo: Patricia Gagliano, dean of IRSC College of Nursing, with students at Cleveland Clinic Indian River Hospital.

Improved pay, signing bonuses, better benefits, even a new entry-level job aimed at luring newcomers to the field.
All are attempts at boosting the number of nurses here amid warnings that the shortage locally is about to get worse.
This spring, the Florida Hospital Association reported an 11 percent vacancy rate in nursing positions, with one in four nurses leaving their jobs in the past year.
And hospitals aren't the only entities with unfilled openings.
"The staffing shortage is still severe," said Lundy Fields, president and CEO of the VNA of the Treasure Coast. He said the Vero agency, which provides more than 100,000 home visits a year, has increased its RN sign-on bonus to $5,000 to help attract applicants.
Nurses are also critical to operations in the county's six nursing homes and two dozen assisted living facilities.
"Hiring is still difficult but we're holding our own," said Don Wright, who owns three assisted living facilities, including Rosewood Manor in Vero and Pelican Garden in Sebastian. He said COVID "is still a concern, I'm sure, but not as much as a year ago."
The thinning ranks were becoming evident even before the pandemic. This fall, a study based on pre-COVID-19 data predicted a shortage of 60,000 nurses in Florida by 2035.
The study relied on data only through 2019, a year before the pandemic drove thousands of frontline nurses into burnout, in many cases resulting in early retirement or a change of careers.
Others sought higher compensation by becoming travel nurses, an agency assignment that often involves moving temporarily but that pays far higher rates.
That phenomenon – some have called it price gouging – has been a major financial strain on hospitals. Advent

Health's chief clinical officer, Neil Finkler, told a Florida House committee in September that 79 percent of the health system's nursing openings were being filled by agencies. His solution: expand nursing education.
"We need more students, we need more professors, we need more seats," said Finkler.
Dr. Patricia Gagliano, dean of Indian River State College's school of nursing, believes a key driver of future nurses is a focus on science in elementary and secondary school classrooms. That notion arose out of Gagliano's 2014 doctoral dissertation at Barry University that looked at predictors of nursing school success.
She also cited high school nursing programs like the one at Vero Beach High that awards some students a CNA certification on completion. Enrollment at IRSC can drastically speed up the path to an RN, though increasingly hospitals, including Cleveland Clinic Indian River, expect a BSN degree –  bachelor of science in nursing – within a certain time frame after hiring.
 Today, Gagliano oversees a current enrollment of around 900 at the Fort Pierce campus – plus a dozen at Vero's Mueller campus. And she is looking forward to expansion.
"We've actually seen an uptick in applications," she said. That increase in applications has been consistent since 2019, she said. "At the same time, we have made some modifications and increased our capacity by 14 percent."
Gagliano is already making plans for the school to grow even more, a process that requires approval from a nursing education accreditation organization.
"We have the support for our program, and we have the outcomes," she said.
Gagliano says the passing rate of IRSC's registered and practical nursing students on the national exam is above the national and state average, and retention rates are also high.
Her nurses-to-be are also resilient; she saw no increase in withdrawals from the program during COVID-19.
"We were only out of the classroom a short amount of time, and we were back in the clinical facilities by August of 2020," she said.
Those clinical facilities, of which there are around 100, include local hospitals, where IRSC nursing students train without pay while following the facilities' protocols.
Friday, two student nurses were on site at dawn ready to train at Cleveland Clinic Indian River's 3 East wing, starting their shift in the cardiac step-down unit, the next stop after the surgery ICU.
The students reviewed the day's scheduled surgeries and procedures with Gagliano, who makes regular on-site visits to partner facilities, and Leona Joseph, master instructor of nursing at the college and a former intensive care nurse at Cleveland Clinic Tradition who has a doctorate in nursing practice.
Joseph, one of only 22 instructors on the IRSC nursing faculty, drew praise last week from one student nurse training at the hospital.  Lindsay Thornton Sward called Joseph "vital to my success this semester." Like many nursing students, Sward is back in school after a significant break and saddled with life responsibilities that could get in the way were it not for inspiring instructors.
Sward already has her AA in pre-nursing from IRSC, completed in 2005. In the intervening years, working as a strength training coach and raising two daughters who are now teenagers, she "always wanted to go back and finish my degree," she said. "My goal is to work in trauma or ICU someday."
"I truly love nursing and caring for people," Sward said. "Making my way through nursing school has its challenges, but I wouldn't trade it for anything. It's been an amazing experience and the teachers are all amazing and supportive."
This is Sward's first semester training at Cleveland Clinic Indian River, and so far, it's been her favorite clinical experience, she said.
"Nursing school is like a puzzle: You're always building and adding to the finished product. I learn something new and valuable every day," she said.
Indian River is on Sward's list of possible future employers, she said. Should she end up working there after graduation, she can look forward to higher wages than last year's graduates.
Last week, RNs at Indian River overwhelmingly ratified a new two-year contract that includes a substantial pay increase. That should put the hospital in a better position to fill some of the dozen or more RN positions it lists on jobs websites.
The Teamsters' business agent, Steve Myers, who negotiated the new contract for more than 400 RNs, said the top wage for RNs went from $35 an hour in the last contract to $47. Starting pay went from $25.30 to $27.50 an hour.
Registered nurses also caught up with their non-union coworkers at Indian River who became eligible for a generous paid parental leave package in April 2020. The plan allows for eight weeks of paid maternity leave plus four weeks of parental leave for one parent, and four weeks of parental leave to the other parent. The policy covers same-sex couples, adoptive parents and surrogate parents. But until now, it did not include RNs, excluded from the benefit because they were under the union contract.
Negotiations went forward this fall despite an effort to decertify the union just as negotiations with hospital management were getting underway. It was the first such effort in two decades, and the nurses voted two to one to keep the union. It is the only Cleveland Clinic Florida hospital to have unionized nurses.
"Toward the end, we really came together and hammered out an agreement that's good for everyone," said Steve Myers, Vero-based business agent for the Teamsters local that represents Indian River's RNs. "The nurses are extremely happy. And the contract is going to reward the employer long term because it's going to make them more competitive for recruiting."
For those on the lower end of the nursing pay scale, there is still a flood of positions to be filled. Certified nursing assistants, who must pass a written and performance exam to work in Florida, typically start at just over minimum wage – the lowest rate in the nation, according to ZipRecuiter – for the emotionally draining, hands-on work. Those nursing assistants quit their jobs in droves in the pandemic when daycare costs from kids shut out of schools in lockdown  made it impractical to work.
That prompted the state to temporarily put in place a new entry level position – personal care attendant – to ease the strain of COVID-19 on long-term care facilities. A high school diploma isn't required, and workers can start after only 8 hours of training, though they must directly work under licensed nurses and alongside CNAs.
The program has since been made permanent, and the training hours doubled to 16, plus 72 hours of on-the-job training.
As a lull in the county's COVID-19 numbers allows once-reeling healthcare providers to regroup,  there is heightened awareness of just how critical nurses at all levels are to their efforts.
The pre-COVID study that predicted the 60,000-nurse shortfall 13 years from now showed that in 2019, Vero and Sebastian had 1,720 RNs, but needed 2,244, a shortfall of 23 percent. That was a worse shortage than the metro areas to the north and south, where demand exceeded supply by 16 percent in the Melbourne area and by 14 percent in the Fort Pierce-Port St. Lucie area.
As for licensed practical nurses, Sebastian and Vero showed a shortage of about 20 percent: 410 LPNs compared to a demand for 506.
The report, commissioned by the Florida Hospital Association and the Safety Net Hospital Alliance of Florida and released last month, anticipates a statewide 12 percent shortfall of registered nurses and a 30 percent shortfall of licensed practical nurses.
But the shortages aren't evenly distributed. Big cities  appear to be headed toward having plenty of RNs, who mostly work in hospitals, but not enough LPNs, who tend to work in doctors' offices and care facilities. Rural areas will have the reverse, not enough RNs, but plenty of LPNs.
The nursing study's authors believe the COVID-19 pandemic will not prove significant to the nursing shortfall in the long term; their projections run to 2035. Instead, the report sees Florida's escalating rate of growth as driving the shortages. That growth is expected to be highest among retirees, who typically have more intensive needs for healthcare.
Proving their point: The urban area with the greatest gap in nurses currently is The Villages, a cluster of retirement communities in northern Florida that in 2019 had only a third of the RNs it needed.
The average age of residents of the Villages in 2019 was 71. The average age of Vero Beach's barrier island residents: 68.