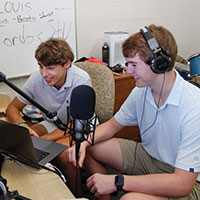 St. Ed's students release single, learn many facets of music trade
STORY BY GEORGE ANDREASSI (Week of November 4, 2021)
Photo of St. Ed's students Louis DeSchouwer (left) and Ford Norris, aspiring singers and music producers.

A pair of aspiring musicians from St. Edward's Upper School who grew up on the barrier island have gained an international following on social media thanks to the catchy harmonies and professional sound of their debut single entitled "All Your Love."
Senior Louis DeSchouwer and junior Ford Norris were already friends from their days at Beachland Elementary and youth sports when they teamed up in the recording studio at St. Ed's shortly after the new school year started.
"I remember I was recording a song and Ford comes in and said, 'Yo, this is so cool, let me hop on it,'" DeSchouwer recalled. "I didn't even know he could sing like that. He was very good."
Since then, DeSchouwer and Norris have spent dozens of hours in the recording studio, researching beats, experimenting with melodies, composing their own lyrics and producing a half-dozen songs.
The duo released "All Your Love" in September and danced to the song with their classmates during the school's Homecoming Dance on Oct. 2.
"Everyone at the school knew the song," Norris said. "Louis and I got in the middle of the dance and everyone was mosh-pitting us. That was like the coolest thing."
Footage of the students dancing with Norris and DeSchouwer and other festivities from Homecoming Week was incorporated into a music video created to accompany the song, said Monica Jennings, the school's marketing director.
"All  Your Love" has about 3,000 streams worldwide, according to the program used by DeSchouwer and Norris.
In addition to Vero Beach, hot spots include Germany, Belgium and Mexico as a result of sharing among family and friends.
Two exchange students from Germany, junior Betty Sander of Bremen, and sophomore Rosa Kurek of Aalen, said they shared "All Your Love" with their friends back home.
"It's really good. It sounds like they're professional singers," Sander said. "It's a song I put on my playlist. I listen to it very often."
Kurek added, "It's really good and it has a lot of potential. They should go to the 'American Idol' show."
DeSchouwer said his dad has shared the song with friends and relatives in Belgium and Mexico.
Both DeSchouwer and Norris got their start singing in church choirs and Norris still sings with the choir at Trinity Church. DeSchouwer also trained in classical piano when he was younger.
While they have enjoyed the fun aspects of the music business, DeSchouwer and Norris said they also learned it involves a lot of hard work that has nothing to do with singing or playing instruments.
In addition to being artists, they've realized they have to serve as their own managers, agents, publicists and lawyers.
They've negotiated a variety of legal issues involving copyrights and licensing in order to release their music on platforms such as Apple Music and Spotify.
"It's definitely a much more complicated industry than most people realize," DeSchouwer said. "Having a song perfect and ready to release is only 30 percent of it. You've got to have good cover art. You've got to make sure you have all the licensing agreements and fill out the release. It takes a week at least for a song to be approved.
"When you want to reach a broader audience, you have to branch out and do little things, which is annoying, but you've got to do what you've got to do," DeSchouwer said.
In the short term, DeSchouwer and Norris hope to produce enough music to create an EP that can be released on a larger scale.
Pete Hengen, the chairman of the Arts Department at St. Ed's and the school's band director, said DeSchouwer has the talent to be a professional musician.
"He's very gifted," Hengen said. "I think he's going to go far, for sure.
"We've always had this music tech program. When Louis showed up, he sort of was beyond the scope of the course as a course," Hengen said. "We're able to manipulate the curriculum; instead of having a course, let's just make it independent study.
"He still has projects he has to do and he has to turn in as part of the course," Hengen said. "He's actually creating beyond the requirements.
"I am trying to push him to be more video-oriented," Hengen added. "He has a lot of really good songs, but in today's age, you have to have a video that goes along with your song in order to get played."
DeSchouwer has clearly inspired Norris, Hengen said.
"Ford has always had the talent, but he's never had the opportunity," Hengen said. "Having Louis here as a senior has given Ford the opportunity to sort of say: 'Oh, wait, this is something I'd really like to do too.'"
While he initially produced rap music, DeSchouwer said he softened his approach to gain a wider following after transferring to St. Ed's from Vero Beach High School for his senior year.
"Pretty much everything you do around your community reflects back on you and your family, so you have to be extra careful about what you say and what you do, especially if you're trying to be in an industry like this," DeSchouwer said.
"When I came to St. Ed's this year, it opened the door for me to make more pop music that's more acceptable for little kids and parents to be able to listen to with their kids," DeSchouwer said.
"I kind of realized, if kids are willing to listen to it and it's acceptable for them to listen to, we're going to have way more success than if it's only high schoolers listening to our music," DeSchouwer said.
Norris said he keeps parents and children in mind when he sits down to write lyrics for a song to avoid inappropriate material.
"We get a lot of parents coming up to us and congratulating us about the song and saying they like it," Norris said. "So, we try our best not to use profanity in a song."
But like a lot of young male pop singers, Norris admitted, "Honestly, we do sing about girls a lot."
In addition, Norris and DeSchouwer said they take inspiration from their life experiences and the people they have known.
"If I'm making music, I'm trying to talk about real stuff, relatable stuff," DeSchouwer said. "I write about things that are going on in my life, or maybe how I feel, or maybe how I felt at one time, looking back and reminiscing on something that happened."
Both said they were traumatized by the loss of classmate Bidensky Termidor, a longtime friend and sports teammate, who drowned during a celebration at St. Ed's on April 30.
"It's kind of hard to talk about," DeSchouwers said. "He was a close friend of both of ours. It was really hard for both of us when he passed away. If I had to say I was doing it for anybody, I would definitely say I'm doing it for him."