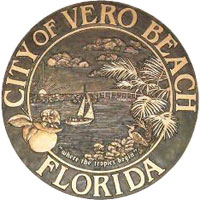 Vero Beach City Council moving ahead with plans for riverfront development
STORY BY LISA ZAHNER (Week of November 25, 2021)

Plans for Vero's riverfront development on the site of the old Big Blue power plant and neighboring sewer plant got a thumbs up in terms of financial viability from a renowned market analyst.
But the expert recommended several changes including addition of a beach club concession operated by the big-name anchor hotel the city is hoping to attract to the development.
The logical spot to put this "beach club" concession would be adjacent to South Beach Park, and coincidentally, Vero just brokered a deal to acquire two vacant parcels on the north end of the park from Indian River County. Amenities could include a pavilion and a bar with food service.
Dr. Hank Fishkind of the PFM consulting firm said a jitney service to bring hotel guests to and from the beach would be ideal, and it was suggested that shuttle could also bring guests downtown to sample the dining and shopping offerings in the heart of Vero.
The "market" area Fishkind used for his study was a 30-minute drive to the so-called Three Corners site. He found there are currently 20 hotels in that area with a total of 1,652 rooms, and occupancy of those hotels over the past 12 months has been 66 percent, rising to 72 percent thus far for 2021.
According to Fishkind's report, room-night demand has grown by nearly 16,000 room nights since 2012 (except for the pandemic lockdown period), and that "room demand rebounded strongly after the lockdown ended" with room-night demand in 2021 being up 14 percent over 2019.
Rising demand plus higher occupancy rates mean there's room in the market for a new hotel, Fishkind concluded. "If no new rooms are added to the comparable market, organic growth alone would support a new hotel delivered in 2026," the report said.
He identified the potential new hotel's direct competitors as Disney's Vero Beach Resort with 211 rooms, built in 1995, Kimpton Vero Beach Hotel and Club with 111, built in 2006 and Costa d'Este Beach Resort with 94 rooms, built in 2007.
The good news, Fishkind said, is that none of the "top tier" hotel brands like JW, Ritz, Waldorf, Four-Seasons, Hyatt, Westin or Fairmont exist in the market.
The 21-acre parcel would support up to 627 hotel rooms, Fishkind said, but a more realistic number might be 150 to 225 rooms. If the hotel does not incorporate the Big Blue structure into its design, the city's 50-foot height limit would apply. The hotel would need to offer full amenities for business and pleasure travelers, including a spa, swimming pool, banquet and conference facilities, plus at least two restaurants.
That's in addition to the four "restaurant pads" in the current version of the concept plan. According to Fishkind's feasibility study, restaurant demand in the Vero Beach market is high. The 30-minute drive market area contains roughly 100,000 households with an estimated median disposable or after-tax income of nearly $45,000 per year.
Of those households, 25 percent went to a restaurant four or more times per month over the past year, and restaurant spending is projected to grow through 2026. Projected restaurant spending in the market area is $29.8 million for 2021. That's $108 for every square foot of restaurant space.
"Overall, the 30-minute drive area around Vero Beach has more demand for food and drink places than there is a supply," the study found, adding that options for bars and waterfront dining are particularly limited. By 2026, the market area is projected to spend $377 million on food away from home, including snacks and bakery goods, and another $63.4 million on alcoholic beverages.
Fishkind recommended the city rearrange the master concept plan slightly, to add a bandshell or performance venue to the south parcel with a schedule of events every weekend, to add overnight docks and T-docks for large vessels. He also recommended increasing the size of hotel recreation.
The city's goals are to attract developers who will make the plan a reality and to make the project "revenue neutral" so the city's operational and maintenance cost of amenities are less than revenues from leases and other sources from the development.
Vero Planning Director Jason Jeffries has given the city council a target of July for finalizing the 75-word ballot question on the project that must go to Supervisor of Elections Leslie Swan in time to get on next November's ballot. But a great many things need to happen first.
"The next step for the Three Corners project is for City Council to adopt, by resolution, the Three Corners Report. The draft report is currently being updated to reflect the community plan recommended by the Three Corners Steering Committee," Jeffries said.
"City Council will have a discussion regarding the recommendations from Hank Fishkind, financial advisor, at their Dec. 7 meeting.  The adoption hearing by City Council will be scheduled in January."
Then, Jeffries said, a request for information or RFI would be issued, after the adoption of the plan, in January or February. Interested developers would be pre-qualified as to their ability to finance and construct the project. But the final decision of who would develop Vero's riverfront would not likely happen until after voters get their say.