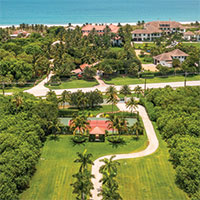 Vero oceanfront estate sells for record $27 million
STORY BY STEVEN M. THOMAS (Week of November 11, 2021)

A new real estate record for the barrier island was set last Saturday when an oceanfront home in the Estate Section closed for $27 million, the highest price ever paid for a piece of residential real estate in Indian River County.
The record price – which probably won't stand for long – highlights the extraordinary and still accelerating increase in oceanfront property values on the island, especially in the estate section, where top agents say the best properties could fetch $40 million if they went on the market.
Partners Cindy O'Dare and Richard Boga at Premier Estate Properties  represented both the seller and buyer in the blockbuster deal, listing the estate at 1920 A1A at the end of June and bringing a buyer who won a bidding war to sign a purchase contract at the end of September.
The sellers were William Sanger, former CEO of Envision Healthcare, and his wife, Janice, who bought the 7-bedroom, 14-bath, 15,900-square-foot house for $17 million in 2015, according to county records. O'Dare and Boga declined to identify the buyer.
The $27 million sale was a solid $2 million higher than the previous record, which the same team set in August 2020 when they sold the estate next door at 1940 A1A for $25 million. That number was millions more than what the house sold for just 2 ½ years before, when it went for a recorded price of $17.5 million.
Barrier island oceanfront land and home prices had been steadily increasing for about eight years when the pandemic hit, slowly climbing out of the trough of the Great Recession.
Once the initial COVID panic subsided in late spring 2020, price acceleration increased dramatically, gaining momentum through the summer and fall before going "supersonic" last winter, according to Boga.
"There has been such a fundamental shift," Boga says. "For the better part of the past decade, we have said that grade A oceanfront land trades at $25,000 a front foot, plus or minus. New or like-new oceanfront homes traded at $1,000 to as much as $1,200 a square foot for the nicest properties.
"In 18 months, that's gone out the window. Now we've seen people pay over $50,000 a foot for oceanfront land and well over $2,000 a square foot for oceanfront homes. The numbers haven't just gone up 20 percent like the rest of the market over the past year. They've skyrocketed."
"I felt a distinct psychological change about a year ago," says O'Dare. "We had recently listed the house at 2208 E. Ocean Oaks Lane [a mile north of the Estate Section] for $8.9 million when I got a call from a guy in Naples who was at a restaurant eating breakfast. He asked a few questions about the house and then said,
'I'm driving over right now, and I am coming to buy it.'
"He signed a contract that day, which was awesome, but it was what happened next that stunned us.
"The house had been on the market with another brokerage for a year or so and quite a few people had looked at it and were considering it, thinking they had time to decide. As soon as it went under contract, those people started calling in a panic, asking if they could put in a backup offer or if the seller could get out of the contract if they paid more."
"It's been like that ever since," says Boga. "Whenever something goes under contract we get those calls from people asking if they can still somehow get that property or if we have anything else, a pocket listing or something coming on the market. There is much less price sensitivity than what we have traditionally seen in Vero. People are willing to pay what it takes to get what they want.
"I remember a deal from early summer 2020, where we brought a buyer to another agent's listing, which was a $5-million-plus oceanfront. We negotiated to within $200,000 but couldn't bridge the gap. Our buyer said, 'I am not overpaying for this house,' and walked away. That doesn't happen anymore."
And with good reason: "I could sell that same house for $8 million today with one phone call," Boga says.
The house on Ocean Oaks Lane has had a similar increase in value: A year after it sold for $8.6 million, Zillow estimates its value between $10 million and $12 million, with a $600,000 increase in value in the past 30 days.
O'Dare says the past year, since the Ocean Oaks sale in November 2020, "has been unlike anything we have experienced in our lives. All of a sudden there were so many more people in the chute. And it wasn't just that we had twice as many inquiries – the conversations were different."
"You could feel the intensity and momentum building," Boga says. "It was clear this wasn't going to slow down."
So far in 2021, O'Dare and Boga, who only sell houses priced at $1 million and up, have done 65 deals, twice their yearly average, and Boga says they will close out the year with $250 million in sales, a record for them or any other team on the island.
"Obviously, it isn't just us," says O'Dare. "Most fulltime agents on the island who are working hard are having great years."
At the same time, O'Dare attributes much of her and Boga's success to the amount of targeted advertising they have done since the onset of the pandemic, more than ever before, not just locally but in South Florida, California, New York, Nantucket, Chicago and other places their buyers come from.
"What we have done this year didn't happen by accident," she says. "I ask everyone who inquires about a property where they saw it and most of the time it was in one of our print or digital ads."
Boga says he attributes part of dizzying increase in oceanfront prices to the fact that "we had more runway. Other desirable markets around Florida had appreciated more in the past 10 years than Vero," which still looks like an incredible value to buyers from Palm Beach, New York and California where waterfront property costs much more.
That value proposition worked in conjunction with the overall pandemic migration from big cities to small towns, the advent of widespread remote work, and the huge increase in wealth among high-end buyers.
The wealthiest 10 percent of U. S. households saw their net worth increase by $8 trillion in 2020, with half of that amount going to the top 1 percent, according to Bloomberg, citing the Federal Reserve, and those are the people who buy $20-million-plus oceanfront estates like 1920 A1A.
The house was designed by architects Mark Vigneault and Tom Hoos and built by Vic Lombardi of Water's Edge Estates and Joe Foglia of Foglia Custom Homes. Completed in 2008 it sold for $11.4 million in 2009, $15.6 million in 2012 and $17 million in 2015, prior to the current sale, according to county records.
The 7-bedroom, 14-bath, 15,900- square-foot house sits on an expansive 5-acre ocean-to-river lot with 155 linear feet of ocean frontage. A description on the Premier Estate Properties website characterizes the estate as, "a legacy property without equal, with a spectacular main house, guest house, motor court complex and gatehouse, [which has] incomparable finishes, breathtaking gardens and grounds, two pools, tennis court, pavilion and ample acreage for additional homes or a helipad."
In the past, island houses over $10 million often took a year or more to sell but 1920 went in three months, receiving five offers, with two buyers competing at the end, according to O'Dare.
"We have never had as much interest in a house [of this magnitude] as we had in this one," she says.
"For years, $20 million was the glass ceiling in Vero Beach," Boga says. "The sense was that homes in Vero don't go higher than that, and that the smart money would not invest in something here that cost more."
Prior to 2020, there had been only two sales at or near $20 million in the history of island real estate, so the assumption Boga describes was reasonable.
But the smart money has changed its mind. In the past 15 months there have been three sales over $20 million – 10 Ocean in Indian River Shores, which went in July for $22 million; 1940 A1A that sold in August 2020 for $25 million, and the $27 million 1920 A1A deal that just closed.
Don't be surprised if a $30 million or even $40 million sale comes next.