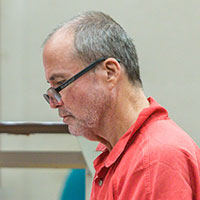 Accused killer gets money to prepare defense
STORY BY LISA ZAHNER (Week of October 14, 2021)
Photo of Ashbury Perkins in court.

Former South Beach resident Asbury Lee Perkins has not yet succeeded in getting Circuit Court Judge Dan Vaughn disqualified from presiding over his first-degree murder case, but the self-represented defendant has finally secured approval of all the money and experts he needs to prepare for trial.
Perkins, 63, had petitioned the Fourth District Court of Appeals after many months of waiting for Vaughn to issue written orders that would permit Perkins to hire a private investigator and other experts to work on the case as Perkins is incarcerated. Vaughn had addressed the motions at various hearings, some dating back to December 2019, but never filed the orders.
To prepare for his trial, which was on track to take place this summer until the dispute with Vaughn arose, Perkins also asked to hire a technical expert to prepare a digital recreation of the crime scene at 2120 Seagrape Drive, where Sheriff's deputies found Perkins in the home with Cynthia Betts, his estranged wife and business partner since the early 1990s, shot dead on Nov. 3, 2015.
Because Perkins has been declared indigent, Vaughn's written approval was needed to release  state funds before the vendors could start work.
Between Oct. 7 and Oct. 11, Vaughn issued six orders totaling more than $10,000 in costs to be paid by the Florida Justice Administration Commission. He approved up to $3,000 for a Stuart-based private investigator Cooper and Hutchinson Professional Detectives LLC, plus up to $4,000 for Speckin Forensic Labs in Fort Lauderdale to engineer the crime-scene reproduction, and up to $3,500 for computer forensic expert Robert Moody of Forensic Data Services in Hollywood, Fla., to work on the case at $150 per hour.
Vaughn granted Perkins' request to obtain expert bloodstain evidence laboratory testing and results on two bags of evidence and swabs from the crime scene, as well as touch DNA and fingerprint processing on a .38 caliber handgun and spent shells collected from the crime scene. Forensic Pieces Inc. out of Pensacola will do both the fingerprint/DNA analysis and the bloodstain testing at $50 per hour with no specific cap on costs listed in Vaughn's orders.
The experts must meet with Perkins during regular jail visiting hours, but the Sheriff's office is required to let Perkins take those meetings without any additional red tape. Should Perkins exhaust the approved funds and demonstrate good cause, Vaughn said he could file motions for higher caps on the expenditures.
Though the appeals court denied Perkins' request to have Vaughn removed from the case via a writ of prohibition – preventing a potentially unfair trial from being held – for failure to do as Perkins had sought, the court left the door open for Perkins to return with a request to force Vaughn to issue the needed orders.
"Ordered that the Aug. 6, 2021 petition for writ of prohibition is denied without prejudice for petitioner to seek a writ of mandamus if the trial court does not enter written orders on petitioner's motions for cost within a reasonable time," the 4th DCA ruled on Sept. 28.
Four days after the appeals court ruling, Perkins penned yet another hand-written appeal to the 4th DCA – a Writ of Mandamus this time – again requesting a new judge. That appeal is pending, and it's still unclear why it took so long for Vaughn to issue orders on expenses and experts he had already verbally approved. The orders issued over the past week are simple, one-page or two-page boilerplate documents, plus the required signature and transmittal pages.
There are additional motions on evidentiary matters, not directly related to the cost of experts, pending in the case as well, but some of those questions may not be decided until the week of trial, according to Assistant State Attorney Chris Taylor, who is prosecuting the case.
Perkins has stated in hand-written court pleadings that he plans to try to enter into evidence a series of law enforcement investigations involving him and Betts to show a pattern of false accusations and manufactured statements from Broward, Palm Beach and Indian River counties that caused him trouble and eventually caused him to snap and shoot Betts three times.
Though Perkins and Betts had divorced in 2009 after years of a stormy marriage and multiple accusations of domestic abuse, the two still interacted regularly because they ran a home-based business together that required Perkins' technical expertise.
Betts, 63, also worked at some point as a hair stylist and held a real estate license. Betts had secured a protection order from the court, but in 2013 petitioned then-Judge Paul Kanarek to dismiss the order so he and his ex-wife could keep running their business.
If convicted of first-degree murder with a firearm as charged, Perkins could be subject to the death penalty under Florida law. Police say Perkins was planning to dispose of Betts' body and flee when they found him in the house with the murder weapon and Betts' body in the laundry room rolled up in a rug.
Police reports say Perkins, who was intoxicated, uttered a confession to officers on the scene. Deputies had responded to the residence after Betts' father phoned from out of state and asked for a welfare check because he could not reach his daughter.