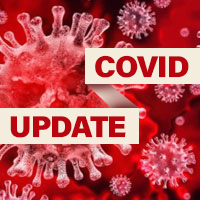 COVID-19 cases lowest locally since start of July surge
STORY BY LISA ZAHNER (Week of October 28, 2021)

Indian River County's new COVID-19 infection rate has dropped to an average of seven cases per day, and the county's case positivity rate has been in the 2 percent to 4 percent range, causing the Centers for Disease Control and Prevention to label the county as an area of "moderate" transmission of the virus as October draws to a close.
The 49 new cases reported in the week ending Sunday bring the local numbers down to pre-surge conditions in mid-June. At the peak of the Delta surge, that weekly total rose to 1,300 new cases per week.
Three neighboring counties of Brevard, St. Lucie and Osceola are still considered areas of "substantial" transmission of COVID-19, as is the state of Florida as a whole, while most of the rest of the United States is considered an area of "high" transmission according to the CDC's Covid Data Tracker map.
As the number of new cases subsides, hospitalizations of people with COVID have also decreased to 12 this past week. That number rose to more than 120 per week at the peak of the Delta surge locally.
It was a big news week in terms of COVID-19 vaccines, as the U.S. Food and Drug Administration expanded its Emergency Use Authorization to include "booster" Moderna and Johnson and Johnson COVID-19 shots to combat the waning immunity researchers have found in fully vaccinated people.
As of last week, 60.7 percent of Indian River County residents, 69.5 percent of Indian River County adults and 88.9 percent of local seniors over the age of 65 were fully vaccinated, according to the CDC.
Now, people age 65 and older and those in high-risk groups can get a shot of either the Pfizer or the Moderna vaccine provided it's been at least six months since their second dose. Certain people who received the Johnson and Johnson vaccine can get a booster two months or more after their first shot.
The Emergency Use Authorization applies not only to people age 65 and older, but also to adults at risk for serious covid disease due to underlying conditions or at risk of exposure due to their occupation or the communal setting where they live, such as those in nursing homes or assisted-living facilities.
The FDA also said it's OK to "mix and match" vaccines when the booster is given, so people who got the Moderna or J&J vaccine can get Pfizer as a booster, and vice versa. The Moderna booster that was authorized is half the dose given as a first or second shot.
The FDA declined to approve booster shots for children or teenagers at this time. This Tuesday, the FDA's Vaccine and Related Biological Products Committee was set to hear evidence for and against the expansion of the FDA's Emergency Use Authorization of the Pfizer vaccine for children ages 5 to 11.
As federal agencies, the military, companies, universities and school districts across the nation have imposed vaccine mandates, Gov. Ron DeSantis announced a special session of the Florida Legislature would be held in November, with the aim of passing bills to protect Floridians from job loss and other negative consequences due to federal vaccine and testing requirements.
The vaccine requirements will extend to employers with 100 or more employees via a rollout of new regulations by the U.S. Department of Labor's Occupational Safety and Health Administration.
"Your right to earn a living should not be contingent upon COVID shots," DeSantis said.
The scope of that proposed state legislation is yet to be seen, but DeSantis said it would include re-instituted COVID-19 civil liability for companies that impose vaccine mandates, meaning that if an employee was forced to get the covid vaccine and had an adverse reaction the employer could be held liable.
The state relieved businesses from most civil liability related to COVID-19 in 2020 to prevent frivolous lawsuits from people who claimed to catch the virus from activities such as shopping at a store or eating at a restaurant.
DeSantis said Florida is no longer under a state of emergency due to the COVID-19 pandemic, so these laws must go through the Florida House and Florida Senate process, rather than be handed down by executive order.
Florida Sen. Debbie Mayfield, who represents Vero's barrier island and serves as the Republican Majority Leader in the Florida Senate, issued a statement supporting the special session. "I have heard from many constituents who are concerned that their abilities to provide for their families and make healthcare decisions for themselves are being threatened by the Biden Administration's sweeping COVID-19 mandates. I look forward to working alongside (Florida Senate) President Wilton Simpson and Gov. Ron DeSantis to preserve our individual rights and safeguard Floridians from their federal government's overreach."
DeSantis said he and Florida Attorney General Ashley Moody are also working with select plaintiffs who have already lost their jobs due to vaccine mandates to file lawsuits because DeSantis and Moody believe the federal mandates are unconstitutional.