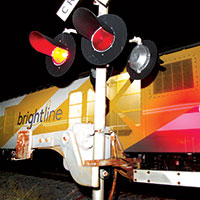 First new Brightline train rolls through downtown Vero Beach
STORY BY GEORGE ANDREASSI (Week of October 21, 2021)
Photo: The first of the new Brightline trains that will be blasting through Vero en route to Orlando in early 2023 passed through town last week on its way to West Palm Beach.

A new Brightline high-speed passenger train rolled through downtown Vero Beach without fanfare about 8 p.m., last Friday, traveling about 40 mph en route to a maintenance yard in West Palm Beach.
Consisting of a locomotive on each end and four luxury coaches in the middle, it was the first of five newly built trainsets Brightline is transporting to South Florida in anticipation of extending high-speed passenger service from South Florida to Orlando in early 2023,  said spokeswoman Katie Mitzner.
The train traveled more than 3,000 miles from the Siemens Mobility North America factory in Sacramento to the Florida East Coast Railway tracks running along the Florida Atlantic coast, Mitzner said.
Brightline is upgrading the FECR tracks between West Palm Beach and Cocoa and building new tracks between Cocoa and Orlando International Airport to handle the high-speed passenger trains.
Construction on the 170-mile extension is 60 percent complete and on schedule to wrap up by the end of 2022, Mitzner said. The project employs about 1,300 construction workers daily.
Brightline plans to zip 32 passenger trains through Indian River County at speeds of up to 110 mph as part of a 3-hour, 15-minute trip between South Florida and Orlando International Airport.
FECR currently runs 10 to 20 freight trains per day along its tracks at speeds of 40 mph to 60 mph.
Brightline plans to resume service between Miami, Fort Lauderdale and West Palm Beach in November, Mitzner said. Service was suspended in March 2020 because of the COVID-19 pandemic.
Brightline expects to finish building new passenger stations in Aventura and Boca Raton in late 2022, Mitzner said. The company also wants to extend service from Orlando to Disney Springs and Tampa.
Officials in Stuart, Fort Pierce, Vero Beach and Cocoa have expressed interest in hosting a passenger station, but Brightline officials have said a decision would depend on ridership studies conducted several years after service starts between South Florida and Orlando.
Indian River County was the last bastion of opposition to the Brightline project. Brightline agreed to pay for $31.6 million worth of safety improvements at 32 railroad crossings in Indian River County to settle a state lawsuit in June.
City, county, state and Brightline engineers are in the process of reviewing construction drawings for the improvements at the crossings.
The county had taken its unsuccessful appeal of Brightline's approval by the Federal Railroad Administration all the way to the U.S. Supreme Court, which rejected the case last October.