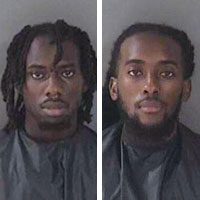 Prosecutors to decide how to proceed in case of school teachers involved in shooting
STORY BY GEORGE ANDREASSI (Week of October 28, 2021)
Photo: Darius Tyonne Cohen (left) and Akkua Jamel Hallback.

State prosecutors expect to decide this week on criminal charges against two public school teachers implicated in a bizarre shooting at an Oslo apartment complex.
"We haven't made a decision yet on what the charges are going to be," Assistant State Attorney Bill Long said Friday (Oct. 22). "We're in the process of reviewing the case."
Both Akkua Jamel Hallback and Darius Tyonne Cohen, who were employed by the school district at the time of the incident, have been fired.
Prosecutors hope to reach a charging decision by next Thursday, which would be 21 days after the Oct. 14 arrest of Cohen, 26, who taught physical education at Indian River Academy for two months, on an attempted murder charge in connection with the shooting, Long said.
The victim was shot one time in the back shortly after 4 a.m. on Oct. 10 at the Preserve at Oslo apartments, Sheriff Eric Flowers said Oct. 18 during a news conference. He is expected to recover.
A security video from the apartment complex shows the victim running away from two men and the sound of four gunshots after they move out of view of the camera.
Cohen was being held in the Indian River County Jail in lieu of $750,000 bail.  No defense attorney was listed in the court records for Cohen's case.
Ballistics tests were being conducted on a firearm found in Cohen's bedroom, to see if they matched slugs found on the grounds of the apartment complex following the shooting.
"Detectives are awaiting the results of several tests, including ballistics, while they continue to work leads and conduct interviews," Sheriff's Office spokeswoman Debbie Carson said last Friday. "This is an active investigation still in its early stages."
Hallback, 26, who taught physical education at Sebastian Elementary School for two months and allegedly accompanied Cohen during the incident, was charged with possession of Adderall without a prescription and released on $15,000 bond.
Adderall, an amphetamine-based drug used to treat Attention Deficit Hyperactivity Disorder but often abused as an upper, was found in a backpack in Hallback's bedroom in the house he shares with Cohen in Vero Lake Estates, records show.
Hallback's defense lawyer, Charles Shafer of Fort Pierce, said Saturday he intends to present information to the State Attorney's Office that will exonerate his client.
"Mr. Hallback is completely innocent of any charges," Shaffer said. "From my point of view, my client has no criminal history. He's a nice young man."
"I think it'll turn out he was trying to make sure everything stayed peaceful and didn't get out of hand," Shaffer said. "We're already acting proactively to contact witnesses that will show this was a mistake of fact and not an intentional act of criminality, at least on my client's part."
Cohen and Hallback's misadventure started with a night of drinking and featured Hallback visiting a woman's apartment for a couple of hours before things went sideways when Cohen had to go to the bathroom.
The duo backtracked to the wrong apartment and got into a fight with the apartment's irate occupant, Sheriff's reports show.
After being notified of the facts in the case, School Superintendent David Moore said he immediately fired Cohen and Hallback, who were probationary employees still within their first 90 days on the job.
Cohen and Hallback passed their FBI background checks and drug screening as part of the hiring process, Moore said Friday during a radio interview.
"They unfortunately made a series of very bad decisions, which ultimately led to them being terminated from our school system, being arrested," Moore said. "They're going to be dealing with some legal issues that will probably impact them for the rest of their lives."
"It is sad, it is unfortunate, but we hold everybody accountable to a standard we as a community and a school system can be proud of," Moore said. "As a school district, any behavior – whether it's inside the school or in the community – that isn't conducive and puts light upon themselves and us as a system, we can't tolerate."