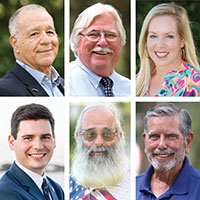 Seven candidates vie for two seats on Vero Beach City Council
STORY BY LISA ZAHNER (Week of October 28, 2021)
Photo of Vero's Council candidates (from top left): John Cotugno, Charlie Wilson, Tracey Zudans. Bottom: Taylor Dingle, Brian Heady and Rey Neville. Not pictured is candidate Ken Daige.

The next Vero Beach City Council will mold the development of the city's two riverfront utility sites and determine the city's legal posture in three pending disputes over Vero's water-sewer service.
The two people elected next week may either help Mayor Robbie Brackett hold the line on taxes, or prioritize spending on pet projects over fiscal responsibility.
Six men and one woman hope to win one of two seats on the council. Candidates do not run for a particular seat, so the office of city council member goes to the top two vote getters. When there are seven people running it makes for an interesting dynamic, and a less predictable outcome because oft times, the person who is the "second choice" of the most voters enjoys the victory.
That factor may very well come into play in this election. In terms of campaign money, endorsements and name recognition, Tracey Zudans would seem to be the favorite as a first-choice candidate. But who will get the second vote of Zudans voters?
John Cotugno, Charlie Wilson and Taylor Dingle seem to be vying for the second vote of Tracey Zudans' conservative supporters. If that vote is split three ways, it could leave plenty of room for incumbent Rey Neville, who has very little in common with Zudans, to slide back into office.
Campaign dollars can be a good way to tell who may be in the lead, but in most city elections, people who cannot vote – but who still have a vested interest in how the city is governed – contribute substantial dollars. That wasn't the case this election cycle as much as over the last decade when the sale of Vero Beach electric drove barrier island residents outside the city to back pro-sale candidates in a big way.
Here's how the candidates' war chests were shaping up as of Oct. 15, which is the last date included on the Oct. 22 report.
Tracey Zudans, former Indian River Hospital District Board member and wife of former Vero Beach mayor Val Zudans, more than doubled the money of her next nearest competitor so in terms of sheer resources available, Zudans dominates. As of Oct. 15 Zudans had amassed $23,075 in contributions, loans and in-kind donations.
Zudans pulled in the most prominent endorsements as well. Among her supporters are Vero Beach Mayor Robbie Brackett, Indian River School Board Chair Brian Barefoot, Florida Senate Majority Leader Debbie Mayfield, Florida House Rep. Erin Grall, Indian River County Property Appraiser Wesley Davis, Indian River County Tax Collector Carole Jean Jordan, Sheriff Eric Flowers, Indian River County Hospital District Board Trustee Ann Marie McCrystal, former Vero mayor Harry Howle, the Vero Beach Police Officers Association and the Indian River Firefighters and Paramedics Local 2201.
In terms of the city budget, Zudans is consistently against new taxes or increased taxes, and she's a proponent of limited government. When asked in a local candidate questionnaire to share thoughts on the current legal dispute with Indian River Shores, Zudans said she thinks she's the right person to jump into the negotiations, as she's known to be adept at handling tough situations.
"We have an incredible opportunity to simultaneously resolve these lawsuits, fund a state-of-the-art sewer facility and keep rates the same or better," she said. "It is about building and repairing relationships and I am the candidate most able to make this happen."
Management consultant and Central Beach resident John Cotugno is hoping to build on his momentum from the past two city elections, and to do so, he raised a respectable $10,100 in contributions, loans and in-kind donations by Oct. 15.
A member of both the city's Utility Advisory Committee and the Three Corners Steering Committee, Cotugno has been involved in two of Vero's most pressing issues. That volunteer service, combined with his professional background and involvement in various charitable causes in the community, has won Cotugno some friends.
"My ongoing civic involvement has uniquely prepared me to address the key issues facing Vero Beach: The Wastewater Treatment Plant relocation, Three Corners development, the Marina refurbishment, and the ongoing issue of lagoon health," Cotugno states in his campaign pitch.
Cotugno's notable donors include former County Commissioner Bob Solari, Corporate Air, Tim Girard of Girard Equipment, former Vero councilman Joe Graves, Lowther Cremation, the Vero Beach Life Guard Association's Erik Toomsoo, and local attorney Barry Segal.
Charlie Wilson, who was elected to the Vero City Council and took bold steps to get the ball rolling on the Vero electric sale during his short stint in office, is eager to return to city politics after a few years out of the spotlight. He certainly knows the ins and outs of how the city government works, and he knows all the personalities involved.
Most importantly, Wilson knows how to tell when things aren't working – and he's not afraid to speak up, on the dais or from the public podium. In 2009, and later with his Operation Clean Sweep campaign, Wilson's prime focus was to push the sale of Vero electric. This time around Wilson, feels it's time to back a police, anti-crime platform.
In terms of the riverfront development, Wilson sees the utility sites as really the bookend to the electric sale – another huge, multi-year effort that needs someone like him to push it forward.
"More than a decade ago, I and others started the movement to sell Vero Electric. I also promised to protect Vero's quality of life after the sale. It took nine years to complete the sale and unfortunately, it appears that if nothing is done to move things along, it may take another nine years to complete the job of retasking the old plant site for the future. I have a record of accomplishment and getting things done. I can do this too," Wilson said in response to an Indian River Neighborhood Association candidate survey.
"I applaud what they have accomplished but I just don't think we are there yet," Wilson said of the Three Corners Steering Committee's efforts. "We need a plan with a 100-year vision that compliments Riverside Park, the Museum of Art, Riverside Theatre. A place the public can go with pride. As I did with the electric issue, I pledge to have a plan, approval from voters and beginning construction by the end of my two-year term," Wilson said.
As of Oct. 15 Wilson had reported a total of $6,425 in contributions, loans and in-kind donations. Notable donors to Wilson's campaign include local accountant Kathryn Barton, Arlyne Zorc, attorney Charles Sullivan and former Indian River Shores Vice Mayor Jerry Weick.
Taylor Dingle, founder of the Vero Beach Young Republicans group, is trying to prove that energy and doing the hard work of meeting voters face-to-face can pay off, despite being a relative newcomer to Vero city elections. Dingle has not run previously, but he did apply for Joe Graves' council seat when he resigned in March.
As of Oct. 15, Dingle had a total of $6,295.36 in contributions, loans and in-kind donations. Notable donors: Utility activist and Moorings resident Steve Faherty, Republican Women's Club leader Linda Teetz, former Republican State Committeeman Joe Coakley and the Realtors Political Action Committee.
Ken Daige wants to return to the city council for a third time. He served one full term, but was on the wrong side of the electric issue and was defeated for re-election. He was later appointed to fill a vacancy but was also not re-elected running a second time as an incumbent. In-between, Daige has served behind the scenes on various committees and speaks from the podium at almost every city meeting. As of Oct. 15, Daige has raised $3,655 in contributions, loans and in-kind donations.   He declined to be photographed.
Daige has some support from the "Keep Vero Vero" crowd. His notable donors this time around include Vero Councilman Dick Winger, Mike Johannsen (Chair of Indian River Neighborhood Association), Shamrock Real Estate, Indian River Shores residents John and Judy Orcutt and Susan Carr.
Candidate and former Vero councilman Brian Heady does not solicit campaign funds, as Heady has long argued people already know what he stands for. Outspoken and often seen as a bit eccentric with his wild beard, his colorful signature patriotic shirts and his occasional earthy language, Heady favors practical solutions to problems and accountability for taxpayer money.
If you take the non-fundraiser Heady out of the equation, incumbent Rey Neville places dead last in terms of monetary support for his campaign. As of Oct. 15, Neville raised $3,550 in contributions, loans and in-kind donations.
Neville, a Central Beach resident, was one of the biggest supporters of the stormwater utility tax and he wanted the city council to increase the property tax rate this year to make room for all the items on a wish list that the city staff had compiled, but he was outvoted. An avid boater, Neville is a big proponent of renovating the city's marina, including the construction of a boat barn to help meet the need of local boaters for dry storage.
Neville has high hopes for the planned riverfront development, according to his published responses to a local candidate questionnaire about pressing city issues.
"I personally think the now defunct electric plant can be turned into a phenomenal asset to the community and a destination for residents and visitors alike," Neville said.
Notable donors to Neville's campaign include Indian River Shores residents and lagoon enthusiasts Judy and John Orcutt, and Mike Johannsen, chair of Indian River Neighborhood Association.
Also on the Vero ballot will be a referendum approving the lease of a parcel of city-owned property for an existing communications tower which supports public safety radio traffic as well as cellphone carriers. In return for this lease, the county agreed to give Vero $500,000 plus oceanfront property adjacent to South Beach Park, and land adjacent to Charles Park on the mainland.