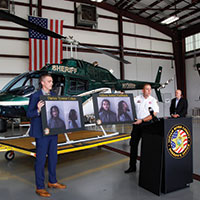 Shooting at Vero apartment leads to arrest of teachers
STORY BY GEORGE ANDREASSI (Week of October 21, 2021)
Photo: Sheriff Eric Flowers (center) gives a press conference on the arrests along with School Superintendent David Moore (right) and Detective Philip Daugherty (left).

Public school parents throughout Indian River County must be wondering about the after-hours conduct of their children's educators after two young, newly hired  teachers were arrested in connection with a shooting at an apartment complex following a night of drinking.
The suspected triggerman, Darius Tyonne Cohen, 26, a gym teacher at Indian River Academy, was being held in the county jail in lieu of $750,000 bail on one count of attempted murder, sheriff's records show. He has also been fired, school officials said.
The victim was shot one time in the back near his apartment at the Preserve at Oslo, but is expected to make a full recovery, Sheriff Eric Flowers said Monday during a news conference.
"When we spoke to Mr. Cohen, he admitted to the shooting," Flowers said. "His story goes a little differently than the victim's story and what the video shows, but he did admit it."
Cohen was about to start teaching his first period class Oct. 14 when an assistant principal summoned him to the office to meet with law enforcement officers, school district spokeswoman Cristen Maddux said Monday.
"He had no idea why he was going to the office," Maddux said. "There were no kids in the office or clinic. They took him out from there."
Cohen had been out on leave the first three days of last week following the shooting shortly after 4 a.m., Sunday, Oct. 10, Maddux said.
Detectives were awaiting the result of ballistics tests on a handgun found in a house at 9325 107th Ave. that Cohen shares with two other teachers to determine if it was the firearm used in the shooting, Flowers said.
Law enforcement officials are considering filing an additional charge against Akkua Jamel Hallback, 26, a gym teacher at Sebastian Elementary School, who was with Cohen the night of the shooting.
Hallback was released on $15,000 bond Oct. 14 after being charged with drug possession, sheriff's records show.  He has also been fired.
Detectives searching the house at 9325 107th Ave. found a bag with 10 Adderall pills in a backpack in Hallback's bedroom, Sheriff's records show. A search of Florida's pharmacies and prescription dispensing database indicated Hallback lacked the required prescription for the drug.
Cohen and Hallback's bizarre misadventure started with a night of drinking and moved to a tryst in a woman's apartment before breaking bad as a result of an urgent need to go to the bathroom, backtracking to the wrong apartment and getting into a fight with the renter.
"Friday morning (Oct. 15), when staff brought this story to me, I just didn't believe it. It didn't even sound real," Flowers said. "It didn't even sound real that two PE teachers were involved in shooting this man in an apartment complex. I still can't believe that it's real.
"They were out at two of our local establishments in Vero Beach known for drinking," Flowers said. "Mr. Hallback had met a young lady and they decided he wanted to go back. So they traveled in his red Challenger to her apartment that was off of Oslo Road.
"He went inside with this young lady," Flowers said. "Mr. Cohen waited outside the apartment while Mr. Hallback was inside. A couple of hours go by. At some point, Mr. Hallback came back out and got Mr. Cohen.
"Mr. Cohen had to use the restroom," Flowers said. "So they went to go back into the apartment that he had been in with this young lady. Except they went into the wrong apartment.
"Mr. Cohen went into the restroom, he needed to use the restroom," Flowers said. "Mr. Hallback got back into the bed he thought was the young lady's bed. It was actually the couple's bed.
"Our victim in this case says: 'All I know is, I was in my apartment, I woke up to a man getting into the bed,'" Flowers said. "'When I got out of bed I encountered another man in my apartment and we got into a scuffle. The next thing I know, I'm getting shot at.'"
Cohen and Hallback left the scene without calling 911, Flowers said.
"At any point they could have stopped and called 911," Flowers said. "They could have said, 'We're in the wrong apartment.' They could have stopped. They didn't. They fled and they didn't involve law enforcement in any way."
The victim called 911 and detectives obtained videotape of the two men from the apartment complex's security camera, Flowers said. After the video was published on social media, tipsters called the Crimestoppers hotline with the names and address of the suspects.
Detective Philip Daugherty said the security video shows the victim running for his life.
"What we know is, there is a scuffle and on video, you can see the gentleman who lives in the house running away on video and Mr. Cohen is chasing after him," Daugherty said. "Just after they get off screen, we hear four shots ring out and our victim is shot in the back. He continues to run until he finds a friendly apartment that lets him inside and calls 911."
Database searches indicate Cohen and Hallback have no criminal history, Daugherty said. Archived prep football records show that both Cohen and Hallback were athletes at Moore Haven High School in Glades County. Cohen went on to play college football in Connecticut and Iowa. Last year he taught middle school science in Moore Haven and Hallback had previously been employed by Florida International University.
Both passed their required drug tests and background checks, School Superintendent David Moore said Monday during the news conference.
"They went through the appropriate process and were cleared to be employees. This is the first incident they had, but unfortunately, it was a very serious incident. Unfortunately, they made some really bad decisions."
Since Cohen and Hallback had not passed their 90-day probationary period, Moore said he was able to immediately terminate their employment.
"There is no place for this in our school system," Moore said. "There is no place for this in our community."
Flowers summed up the situation this way:
"For me, the biggest thing we have to recognize here is: These guys were out at 4 a.m., they had been drinking, they're back in this apartment, one guy has drugs in his backpack, they're making bad decisions out there. And at the end of the day, they ended up in the wrong apartment.
"It could have been way worse than it was," Flowers said. "This could have been a deadly incident. Fortunately, the victim is still alive today."