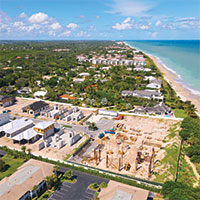 Surfsedge: 'If we build it, they will come'
STORY BY STEVEN M. THOMAS (Week of October 14, 2021)

What a difference a year makes.
In October 2020, there were no homes sold or built in the Surfsedge subdivision in Indian River Shores. Some weeks that fall, sales agents saw only one or two lookers, according to Megan Raasveldt of Dale Sorensen Real Estate.
Today, all the available single-family homes have been sold with list prices around $1.8 million, eight homes are under construction, three are complete and two families have already moved in.
At the same time, a 12-unit condominium building is emerging from the ground as workers pour massive concrete foundations heavily laced with steel rebar that will support the 3-story building – which is slated for completion in March 2023.
Raasveldt and her fellow sales agents are seeing 20 or so potential buyers each week – traffic she expects to increase as season comes on – and four condos have been sold, including one that went under contract last week.
The turning point in the project came in January when the first model house was completed.
That was what buyers were waiting for – the opportunity to walk through the finished product before putting down a hefty deposit and committing to a purchase.
The first contract was signed on Jan. 18 and by Good Friday the single-family homes were sold out
"Once we signed that first contract, it was like dominos falling," says Raasveldt.
Condo developers usually don't start building until they have a fair number of presales to help them sleep at night, but the near instantaneous sale of the single-family homes did not go unnoticed by executives of the developer, The Lutgert Companies.
"We were promised that if we build it, they will come, and that has been proven," said Lutgert president Howard Gutman in April, when the company green-lighted the condo with just one presale. "The strength of the home sales has given us the confidence to move forward with the condominium building. We are excited and hope to see the same trend with the oceanfront residences."
So far so good. With just the foundation underway, a third of the units have sold, including three of four end units, which are the most desirable and expensive.
Buyers include a longtime Vero resident, a couple from Chicago, a Surfsedge single-family home buyer who decided to purchase a condo, too, for overflow space when lots of visitors show up, and a renowned aviation litigation attorney from Naples.
"Lutgert is the premier developer in Naples," says Bob Clifford, who heads a 27-attorney firm. "I bought my first condo from them in the 1980s and have purchased a number of others. They have always exceeded expectations. They are wonderful people to work with."
"We have a number of clients who have followed us from building to building in Naples," says Lutgert senior vice president Mike Hoyt, a Vero native who talked his fellow executives into building the company's first development on the east coast of Florida in 32963. "But this is the first time one has followed us this far!"
Clifford says he decided to buy a Surfsedge condo for a range of reasons: "Vero today is like Naples was in the 1980s, before it got so congested and that has some appeal. I think it is a good place to invest.
"In addition, I'm a golfer and there are a lot of great golf courses in the area, and I am attracted to the power of ocean as compared to the relatively placid Gulf of Mexico."
Clifford and his wife are seasonal residents in Naples and for the time being their end-unit condo at Surfsedge will be "an occasional vacation home," but they are considering making Vero their main winter residence sometime in the future.
Other condo and single-family home buyers at Surfsedge include families from Vero, South Florida, Texas, Chicago and the tri-state area who will be about equally split between fulltime and part-time residents.
Eight condos are still available, ranging in size from 2,802 to 3,307 square feet of air-conditioned space with between 290 and 780 square feet of outdoor patio or balcony space. Prices for the remaining units start at $2.5 million and go up to $3 million for the last remaining end unit.
The building also includes six garages with 20-foot ceilings, which with a car-lift can house four cars. Two have been sold and the other four are available on a first-come, first-served basis, priced at $140,000 or $150,000. Buyers who don't purchase a garage will have two covered parking spaces.
With the first-level garages that tall, both the second-floor and third-floor condos will have wide-open ocean views over a buffer of seagrape dunes.
There will be a lap pool, fitness center and "really cool rooftop amenity that Vero has not seen before in place of a clubhouse," according to Raasveldt. "There will be a summer kitchen, hot tub, fire pit, water walls, conversation area and little pet walking area on the roof, all with spectacular views.
"We are kind of flipping the switch on a traditional clubhouse and having something open-air and oceanfront, rather than having something dinky back on the land side where they can play cards."
The rooftop, pool and fitness center will be for the use of the single-family homes as well as condo homeowners.
"The rooftop amenity helped us sell the houses," Raasveldt says.
In turn, the houses are now helping sell the condos. Lutgert leased back one of the completed homes from the buyer to use as a sales center. The condos will have the same suite of luxury fittings and finishes as the single-family homes and buyers can see them up-close in the model home, along with large condo floorplans, to get a clear sense of what the oceanfront residences will be like.
So far, labor and material shortages that have plagued the construction industry haven't had a big impact on Lutgert's progress at Surfsedge, according to Hoyt.
"Two houses were delayed by about a month," he says. "Other than that, we have been able to keep moving. We've factored current conditions into the condo completion timeline, so we think we are okay there.
"At the same time, we have our eyes wide open, because it is when you think you have everything factored in that something you don't expect sneaks up on you."
Lutgert acquired the Surfsedge site from Indian River Shores in an auction in 2017, paying $4.4 million. The company broke ground on the project in 2019, after getting the tract rezoned as a planned residential development.
At list price, the sellout value of the subdivision will be in the neighborhood of $60,000,000, a number that Lutgert execs are pleased with and one that has them looking for additional development opportunities on the barrier island.
"We're super-happy with Surfsedge so far and are looking forward to season," says Hoyt.