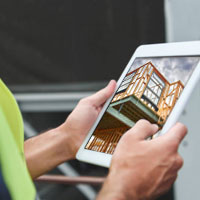 Virtual building inspections now offered for certain minor projects
STORY BY SAMANTHA ROHLFING BAITA (Week of October 3, 2021)

Several local governments including the Town of Orchid on the north barrier island now offer virtual building inspections for certain types of minor projects.
Locally, Orchid, Sebastian and Indian River County have conducted several such inspections; Vero Beach inspections are performed by the county's building department. Indian River Shores has not yet adopted the practice.
Codifying a practice that began out of necessity during the pandemic, a new state law effective July 1 allows such inspections to continue in certain circumstances. HB 667 had been introduced by the Florida legislature earlier this year in the face of COVID-19, and was signed into law by Gov. Ron DeSantis on June 24.
Virtual inspections can take several forms: photographs, videos, real-time communications such as Zoom and FaceTime, or through one of several apps designed for contractors, such as VuSpex, used by Martin County.
Indian River County building official Scott McAdam said the county began offering virtual inspection options "around 2020 or so, during COVID." Noting the state law "isn't a mandate," McAdam said that whether the project is commercial or residential, an owner or contractor can opt for a virtual inspection under the proper circumstances.
Many of the estimated 75 or so virtual inspections the county has performed have been for "change-out permits" or "re-inspections" – air conditioning systems or water heaters, for example.
A lengthy, detailed final inspection on a new house – or a permit inspection for commercial restaurant equipment such as a grease hood or oven – would best be done on site, in person, he said.
There are several benefits of having this additional "tool in our toolbelt," said McAdam. During months of COVID quarantining, when many people would not or could not allow anyone into their home, virtual inspections were a viable option.
Time saving is certainly a major benefit for inspectors, contractors and property owners. An inspector, said McAdam, can complete many more permits sitting in an office reviewing photos or videos, or observing an inspection in real time, rather than driving to and from a location, then returning to assess and process the info.