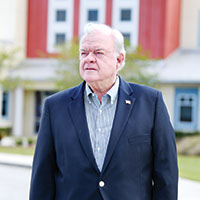 Backlash against Jay Kramer over GOP unit's vote to censure Barefoot
STORY BY RAY MCNULTY (Week of September 23, 2021)
Photo: Chairman Brian Barefoot outside the Indian River County School Board.

School Board Chairman Brian Barefoot responded to the local Republican Executive Committee's recent vote to censure him – for supporting a school mask mandate here in defiance of Gov. Ron DeSantis' order – with a question committee Chairman Jay Kramer couldn't answer.
After Kramer announced the Republican Executive Committee's action during the public-comment segment of last week's School Board meeting, Barefoot asked: "Mr. Kramer, before you leave, could you explain to me what censuring me means?"
Kramer couldn't.
Obviously caught off-guard by Barefoot's question, Kramer stammered a bit, saying, "That would be a definition to the membership of the REC. … If you would like, the next meeting, I will ask them that question."
Barefoot, though, wasn't done.
He continued his counterattack, mocking the committee's vote by asking Kramer a second question: "Do I get a plaque or something, now that I've been censured? I ought to get something."
Then, after School Board member Jackie Rosario attempted to rescue Kramer by warning that policy prohibits board members from engaging with speakers during public-comment periods – her remarks drew cheers from her raucous, anti-mask allies – Barefoot promptly shut her down.
"Mrs. Rosario, I'm the chair and I have the privilege of being able to make an exception to what we normally do," Barefoot said. "And under the circumstances, that's what I did."
He then moved on to identify the next scheduled speaker, ignoring Rosario's retort and effectively ending what appeared to be her disingenuous pandering to her supporters.
In fact, Barefoot had alerted School Board members earlier in the day – at their pre-meeting workshop session – that he "may respond" if a Republican Executive Committee representative used the public-comment forum to put the censure on the record.
During that afternoon workshop session, School Board Vice Chairman Teri Barenborg confirmed she attended the committee meeting but abstained from voting on the censure. She also said she resigned her Republican Executive Committee membership.
"I was not only surprised, but also dismayed, with this vote," Barenborg said. "It is difficult enough to serve as a school board member without personal pressures being put on us over our votes.
"I respect all of my fellow board members and know that all of us are trying to make the best decisions we can during this pandemic, and with an extremely divided community," she continued, adding, "I do not approve or support the censuring of a board member."
Barefoot, who said he wasn't "losing any sleep over the censure," thanked Barenborg for her comments, but he also expressed concern about partisan politics infecting what's supposed to be a nonpartisan board and destroying any sense of trust among its members.
"We don't have to agree, but we have to know that we're being straight-shooters with one another," said Barefoot, 78, a former Indian River Shores mayor. "We don't need people entering into a political discussion, whether it was intended or not, undermining somebody else on this board."
At least two other prominent elected officials attended the Republican Executive Committee meeting, but none spoke in defense of Barefoot, one of the community's most-respected Republicans.
Tax Collector Carole Jean Jordan didn't respond to messages left on her mobile phone. County Commission Chairman Joe Flescher said he wasn't in the room for the censure discussion or vote.
However, Flescher said last weekend that the vote wasn't appropriate and he would not have supported the censure.
"This man voted in a way that he believed was best for our school district," Flescher said. "You don't censure somebody just because you disagree with the way they voted on something. Had I been in the room, I would've said something."
Sources who attended the meeting and spoke on the condition of anonymity said the censure vote has created a rift in the Republican Executive Committee and some longtime members are threatening to resign if the action isn't recanted.
One source said some members are questioning the legitimacy of the censure and want the Republican Party of Florida to investigate the matter because the item was not on the meeting's agenda and, contrary to committee policy, guests were in the room when the vote was taken.
Barefoot, who returned to his summer home in Vermont after the School Board meeting, said he has been told "there was a negative reaction from REC members to Jay" and his inability to explain what the censure meant.
"I was told a number of people were embarrassed and intend to resign," Barefoot said.
He said the censure was "as ridiculous as it is meaningless," adding: "It's just grandstanding, and it doesn't reflect well on the leadership of the REC. The Republican Party that I'm a part of would never do something like this."
Barefoot said he would "reach out" to Flescher, Jordan and other elected officials who attended the Republican Executive Committee meeting. However, when asked if he would try to find out who voted for the censure, he replied: "You can ask people, but they're going to deny it.
"They're running scared."