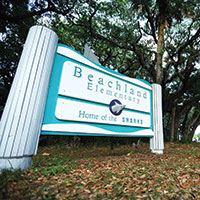 Beachland surrenders crown as top elementary school
STORY BY GEORGE ANDREASSI (Week of September 30, 2021)

The new school year has gotten off to a rough start at Beachland Elementary, which not only has had to fight off a COVID-19 surge but learned this past week that academically, it has lost its top position among Indian River County public elementary schools.
Achievement on English Language Arts, Math and Science standardized tests all declined at the barrier island's only public school during the 2020-2021 school year, according to Florida Department of Education accountability reports released last week.
The result: Beachland went from being the highest rated of the county's 12 public elementary schools during the 2018-2019 school year to seventh place in the most recent round of testing. COVID-19 wiped out standardized testing for the 2019-2020 school year.
The school district's accountability and research coordinator was reviewing 32963's analysis of the school academic performance data, district spokeswoman Cristen Maddux said Monday. However, the review had not been completed by deadline.
School Superintendent David Moore said he met with elementary school principals Friday to discuss the test data and strategies for improving academic performance. Moore's goals include all schools achieving an A rating.
Beachland Elementary scored a total of 331 points during the 2020-2021 school year, down from 497 points scored during the 2018-2019 school year. In 2018-19, Beachland topped all the county's public elementary schools, and ranked second among all the district schools in science, and fourth in math and English language arts.
In 2020-2021, however, Beachland Elementary ranked fifth of the district's 12 elementary schools in English language arts, seventh in math and sixth in science, state records show.
Only Fellsmere, Vero Beach, Dodgertown, Pelican Island and Sebastian elementary schools got lower overall scores than Beachland in 2020-2021, state records show. Fellsmere, Vero Beach and Dodgertown remained on the list of the 300 lowest performing elementary schools in Florida.
Indian River County's public schools as a whole, however, moved up to 29th place out of 67 districts in Florida for 2020-2021, according to the test scores. The local schools ranked 38th in 2018-2019.
In this year's results, the school district ranked 22nd in Florida in 2020-2021 in English language arts, 33rd in math and 21st in science, state records show. By comparison, in 2018-2019, the local schools ranked 32nd in the state in English language arts, 35th in math and 37th in science.
Two charter schools, Imagine at South Vero and Sebastian River Charter Junior High School, achieved A ratings during the 2020-2021 school year. Both schools also achieved A ratings in 2019, 2018 and 2017.
The district's 22 other schools opted out of letter grades for 2020-2021, as allowed by the Florida Department of Education because of the disruptions caused by the COVID-19 pandemic.