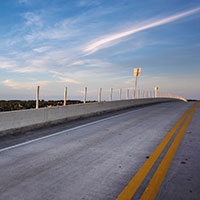 Complaints halt the construction of new Wabasso bridge fence
STORY BY SAMANTHA BAITA (Week of September 16, 2021)

The Florida Department of Transportation has halted installation of a 3-foot-high chain link safety fence along both perimeters of the Wabasso Causeway high bridge after posts for the new barrier had already been installed – and it is now searching for a more aesthetically pleasing alternative.
Following a Vero Beach 32963 report about the project last month, many Orchid residents expressed dismay that the planned galvanized steel chain link fencing would obstruct views of the lagoon below and would have what Mayor Bob Gibbons termed "a significantly adverse visual impact."
The long-delayed project, which was started in mid-summer,  followed years of urging from cyclists and the Indian River County Municipal Planning Organization Bicycle Advisory Committee to make the bridge safer for bikers and pedestrians. The bridge's narrow bike lanes, separated by a less-than-3-foot concrete barrier from a 60-foot drop to the lagoon, had caused it to be considered one of the most dangerous for bikers in the state.
To explore the possibility of an alternative to the chain link fence that would not only protect bikers but also preserve the aesthetics, Gibbons sought support from Indian River Shores, the neighboring municipality to the south, and the county MPO.
On Sept. 3, a virtual meeting took place to discuss the project. In attendance were Gibbons and Orchid Town Manager Noah Powers; Indian River Shores Town Manager Jim Harpring and Mayor Brian Foley; MPO Staff Director Brian Freeman; and an FDOT representative.
Shortly afterward, Gibbons said he'd been informed that FDOT has directed the contractor to suspend work on the bridge, and that the FDOT office in charge of the project (District 4) "has requested its Operations Department to examine the potential for installation of a railing on the high Wabasso (County Road) 510 bridge similar to the more visually pleasing railings on the Merrill P. Barber and 17th Street bridges in Vero Beach."
But Freeman said FDOT had previously indicated the existing concrete barrier on the Wabasso bridge – which had been retrofitted in 2005 – was not configured in the same way as the two Vero Beach bridges and isn't designed for similar railings.
District 4 Communications Manager Guillermo Canedo explained that "the current FDOT standards do not provide a crash-tested alternative to fencing for the type of concrete bridge railing on the Wabasso Beach Road high level bridge. The department is researching and reaching out to other states to determine if there are other viable options they have used."
When information becomes available regarding options for the bridge, it will be presented at an MPO board meeting.
"Ironically, "Gibbons added, "I had to commence Orchid's governmental activities in this matter absent any collaboration with my colleagues on the Town Council, in order to avoid running afoul of state law requiring municipal government in the sunshine." COVID and the absence of most council members in the summer months have precluded traditional meetings.
So as not to "confuse the joint governmental process with any grass roots efforts to address this significant issue," Gibbons clarified, he will now "leave it to others within our Orchid community to carry out whatever process they determine appropriate on an individual and/or broader level."
While FDOT has suspended the project and plans to explore alternatives, they have made clear, says Gibbons, that any change of plans "at this late stage will be costly.  For this reason, "the participation of a broad spectrum of barrier island residents, bicyclists and pedestrians is crucial."