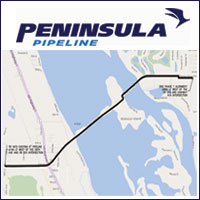 Contractor seeks permit to lay natural gas pipeline to barrier island
STORY BY LISA ZAHNER (Week of September 30, 2021)

Peninsula Pipeline Company, a contractor working for Florida City Gas, has applied to Indian River County for a right-of-way permit to lay a 4-inch steel natural gas pipeline to bring gas service to the barrier island.
The 3.3-mile planned pipeline project would run alongside County Road 510 in Wabasso starting just west of 58th Avenue, eastward under U.S. 1 and under the Indian River Lagoon to Highway A1A.
"We expect it will take a year to complete the extension after permits are approved. The final project timeline will be determined by the permitting process," said Danielle Mulligan, Assistant Vice President of Strategic Communications and Community Affairs for Chesapeake Utilities Corporation, which owns the Winter Haven-based Peninsula Pipeline Company.
"Once construction begins, we anticipate minimal disruption of vehicle traffic and no disruption of marine traffic. Every effort will be taken to minimize impacts to the local communities," Mulligan said.
Florida City Gas in July began informing Indian River Shores officials that the long-awaited expansion project had been approved by the corporate leadership and that they would soon be approaching state and local agencies asking for permits. Once all phases are complete, the "Beachside Pipeline" extension project will serve residents from Windsor on the north barrier island to the 17th Street-Causeway Boulevard in the City of Vero Beach.
Indian River County officials said they have not yet met with Florida City Gas about the project, but that the pipeline right of way application is winding through the various county departments for engineering, traffic and legal approval.
Vero Beach officials plan to meet with Florida City Gas representatives on Oct. 4 to talk about the gas company's proposal for placing temporary compressed natural gas (CNG) trailers on city utility property near Riverside Theatre to serve Central Beach customers long before the pipeline and island infrastructure are complete.
Florida City Gas wants to place temporary CNG trailers somewhere in Indian River Shores to serve residents as well, but no location has been settled on and no permit applications have been filed yet with the town.
When asked if the crews building the pipeline would be local or from out of state, Mulligan said: "Installation of the pipeline will be subject to a competitive bidding process, and local and in state contractors will be invited to participate."