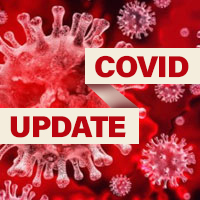 Covid infections, hospitalizations continue decline
STORY BY LISA ZAHNER (Week of September 30, 2021)

The number of new COVID-19 infections here took another sharp move downward to close out September – falling 43 percent from the previous week – and the county's case positivity rate briefly dipped into single digits for the first time in several months.
Last week's 330 cases amount to an average of 47 cases per day, roughly one quarter of the 1,300 logged during recent record-breaking weeks when the coronavirus Delta variant ran rampant.
As of last Friday's Florida Department of Health weekly report, 9.9 percent of people tested for the virus turned up positive.  But by Monday, that number had nudged back up to 12.27 percent, according to the Centers for Disease Control and Prevention seven-day rolling data tracker.
New hospital admissions were down to 35 in the week leading up to press time Monday, from 51 the previous week, and the number of hospital beds and intensive-care beds being used to treat COVID patients continues to decline as well.
Twenty-two more deaths were reported last week, bringing the countywide death toll from COVID-19 to 505 since the onset of the pandemic.
On Monday, the state as a whole posted the lowest one-day total of COVID cases since early July. But new deaths pushed the state total number of people lost to covid past 54,000.
Vaccination rates continued to drop off in Florida, continuing at a rate statewide that was a third less than the previous week and far below the rate in August when the Delta surge was at its worst. As of Monday, 70.8 percent of Indian River County residents have had at least one dose of vaccine, and 58.4 percent are fully vaccinated. Those same numbers for adults are 81 percent and 67 percent. For seniors age 65 and older, 99.9 percent are partially vaccinated and 86.5 percent are fully vaccinated.
Dr. Gerald Pierone, an infectious disease specialist and founder of Whole Family Health Center, had mixed feelings – gratitude paired with concern – about what may be a temporary respite from record-high infections with four out of 10 Indian River County residents not fully vaccinated.
"Thank goodness that things are getting better," he said. "Sadly, we are going to continue to see unvaccinated people continue to get sick and die, but at least the strain on the medical infrastructure will relent."
To help head off the next surge among the most vulnerable people, the U.S. Food and Drug Administration last week granted limited approval of "booster" vaccine shots for those who are fully vaccinated but feel a third shot would provide better protection.
Only the Pfizer-BioNTech vaccine has been approved so far for the limited booster shots. "We will also evaluate with similar urgency available data in the coming weeks to swiftly make additional recommendations for other populations or people who got the Moderna or Johnson and Johnson vaccines," the CDC said on Friday.
According to the FDA, to be eligible to schedule a booster shot now, patients must have completed their two-shot course of Pfizer vaccine at least 6 months ago. Eligible groups include people age 65 and older, plus adults at high risk of severe COVID-19 disease, and "individuals 18 through 64 years of age whose frequent institutional or occupational exposure to SARS-CoV-2 puts them at high risk of serious complications of COVID-19 including severe COVID-19."
The limited booster recommendation was made after reviewing international infection data plus a very small subset of the Pfizer clinical trial participants. Pfizer looked at breakthrough infection rates in its clinical trials, as well as the timing of the breakthrough infections.
The analysis submitted by the company showed that during the study period of July and August 2021, the incidence of COVID-19 was higher among the participants who completed their primary vaccine series earlier, compared to participants who completed it later. The FDA determined that the rate of breakthrough COVID-19 reported during this time period translates to a modest decrease in the efficacy of the vaccine among those vaccinated earlier.
Pfizer selected 324 people for the booster trial. "Safety was evaluated in 306 participants 18 through 55 years of age and 12 participants 65 years of age and older who were followed for an average of over two months."
Based upon the breakthrough infection data and the booster trial, the CDC says nursing home and assisted-living facility residents – who were among the very first to get the COVID-19 vaccine after the FDA's emergency approval in December 2020, and are at higher risk of serious complications – should get boosters if eligible.
As the calendar flips to October, the autumn chill sets in around the country, and seasonal residents begin to return to the barrier island, public health experts nationwide are urging people not to forget about the seasonal flu, which can cause serious illness or even death.
Should there be a bad flu season, people turning up in emergency rooms with the flu would further stretch the battle-weary healthcare system and take resources away from dealing with future coronavirus surges as well as the normal seasonal influx of patients into local hospitals.
CDC guidance early in the COVID vaccine rollout suggested waiting two weeks between COVID shots and flu shots, but that has since been changed to say it's OK to get both shots at the same time – with one caveat. If there's a side effect it would be tough to tell which shot may have caused it.
Staff writer Michelle Genz contributed to this report.