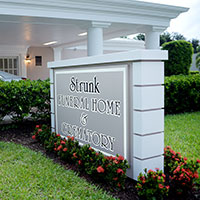 Judge Croom to hear arguments in Strunk Funeral Home lawsuit
STORY BY RAY MCNULTY (Week of September 9, 2021)

With a jury trial set for Nov. 1, Circuit Judge Janet Croom will hear arguments next week on whether the Strunk Funeral Home must deposit into the court registry at least part of the $300,000-plus in back rent sought by the man who claims to own the local properties on which the longtime business operates.
The funds would remain in the court's custody until lawsuits filed by Glenn Strunk's adult children and James Young Jr. – the nephew of Strunk's wife, Dorothy, who bought the properties from her for $3.1 million in July – are resolved.
The hearing is scheduled for 8:30 a.m. to 5 p.m. Monday.
Strunk, who owned the funeral home business since 1973 and ran it for 47 years, died in February 2020, sparking an ugly dispute between his children and their stepmother. Glenn and Dorothy Strunk were married for 41 years.
Young filed his lawsuit under the name of his business, Millennium Funeral Home and Crematory, in response to a suit filed by Strunk's three children, including Mary Kopchak, who, according to state records, replaced her father as president of Strunk Funeral Homes on Feb. 24, 2020 – two days prior to his death at age 79.
Young's suit was filed in response to a lawsuit filed in June by Strunk's children, who are challenging the sale on the grounds that their stepmother wasn't authorized to sell the properties.
"When Millennium bought the property from Dorothy, there was an assignment of rents, and we're claiming they owe more than $300,000 in back rent for the three properties – the funeral homes in Vero Beach and Sebastian, and the crematory," said Louis "Buck" Vocelle, the local attorney representing Young.
"The Strunk kids are claiming they don't owe any rent because of the betterments they've made to the property," he added. "They're also challenging the sale, saying it was fraudulent."
Young, who said he has owned more than a dozen funeral homes and currently owns three crematories, also wants Strunk Funeral Home evicted from the properties.
Barring a settlement, however, that matter will be decided by jury.
Fort Pierce-based attorney Richard Sneed, who is representing the Strunk siblings, did not respond to multiple emails and phone messages.
Sneed's clients contend the disputed properties were jointly owned by the Strunk Funeral Home because business operations covered the costs of their acquisition, maintenance and capital improvements, as well as expenses such as taxes, insurance and debt service – even though the land was titled in the names of Glenn and Dorothy Strunk.
Young claims in his countersuit that Strunk Funeral Home hasn't paid rent since March 1, 2020, and its owners have refused to vacate the premises.