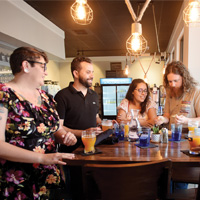 Local restaurants doing OK, and new ones coming
STORY BY STEPHANIE LABAFF (Week of September 9, 2021)

Across the country, COVID-19 has wreaked havoc in the restaurant industry.  But Vero's restaurants have fared better than most.  Only a small number have closed their doors permanently, while several new restaurants have emerged with a few more getting ready to open their doors.
You won't have to cross the bridge much longer to satisfy cravings for Asian food.   Asian Fusion owner Dun Chau, who owns several restaurants in Orlando, is bringing his version of an Asian tapas-style restaurant to beachside Vero.
The informal dining concept will be located in Pelican Plaza. Chau hopes to open on December 1 with a grand opening to follow on New Year's Day.  Patrons can eat onsite or take their meal to go. According to Chau, the menu will be light, with popular favorites, including egg rolls, gyoza, ramen, udon, fried rice, pad thai and sushi.
"Asian Fusion means it's a little bit of everything. You are going to travel across Asia as you eat. We'll have something for everybody," explained Chau.
Meanwhile, down on the south end of Ocean Drive, Sailfish Brewing Company opened its doors Sept. 1 to a northern extension of its Fort Pierce craft brewery in the Portales de Vero building.
The Vero location has eight of the 24 on-tap drafts they offer at the downtown Fort Pierce location, but the big news locally lies in the menu.  Sailfish has brought on Vero's own Chef Chris Bireley as consulting chef, according to Taylor Hacker, Sailfish brand promotion and events manager.
Bireley, known most recently for his old downtown restaurant, Osceola Bistro, has created a menu for the Sailfish Brewery's beachside taproom that includes small plates, shareables, and some composed entrees – things like smash burgers, Buddha bowls, shrimp and grits, Scotch eggs, flatbreads and curry skewers.
Over on the mainland, Royal Palm Pointe will have two new dining options.
Kitty Wagner, who closed her Blue Star restaurant earlier this summer,  will be opening Kitty's at 48 Royal Palm Pointe.
Wagner said the new location will offer a more intimate dining experience with indoor and outdoor seating and water views where guests can nibble on small and medium plate fare. The chalkboard menu will reveal "what I feel like making that day based on whatever is fresh and looks good.
"It was time to try something new," she explained. "I can be more creative in a smaller space. To be able to cook in an open kitchen and look outside, it's a rare treat."
Across the street, construction has begun again on the oft-delayed Tradewinds 41 at the former location of the Dockside restaurant. Owner Tim Girard now is projecting a mid-2022 opening for what he promises to be a "unique dining experience on the Indian River Lagoon."
Still keeping the menu close to his vest, Girard described a 1950s Tiki bar-themed restaurant featuring an "all-natural foods menu, including steaks and seafood with a healthful South American twist, cooked on the unique Argentinean wood-fired Asador Grill, which will be a centerpiece of the restaurant."
In the heart of downtown Vero, in the space long occupied by the Melody Inn and more recently Bistro Fourchette, Chef Chris Lawrence has opened The Oar Restaurant offering Mediterranean fare. The menu ranges from vichyssoise to lamb ragout.
Chef Sean Tuohy, who moved to Vero Beach to open Post & Vine with co-owner Bobby Del Campo, has decided after several successful years to venture out on his own and anticipates opening Tuohy's Downtown with his sisters, Audra and Kimi, across the street from the Post Office on 13th Avenue.
Tuohy will be offering approachable, modern American cuisine with fresh, quality ingredients. The menu will include burgers and sandwiches with an extensive wine list. With the 21st Amendment Distillery opening in the adjacent space, Tuohy says they have plans to collaborate. You will be able to order menu items in the distillery, and Tuohy already has plans to incorporate some of the spirits made next door in some of his dishes.
Finally, big news for fans of Mexican cuisine. Casa Amigos, the highly regarded family-owned restaurant in Port St. Lucie, will be opening in the Indian River Mall near the AMC Movie Theater entrance in December.
After remodeling the former TGI Fridays Restaurant & Bar, which closed its Vero location during the pandemic, Casa Amigos co-owner Jaime Aguilar said patrons could expect a big menu with dishes you won't find anywhere else in the area.
Among the featured items are tableside guacamole, homemade tortillas and the El Molcajete – a sizzling lava rock topped with grilled chicken, steak, chorizo, carnitas, shrimp, cheese, onions, peppers, cactus, avo-cado and jalapeño toreado. For drinks, of course, there are Margaritas.
Don't be surprised if a few more restaurants pop up. Billy Moss, a Lambert Commercial Real Estate Broker specializing in retail and restaurant properties, said: "We've had a lot of inquiries from people who want to go into the restaurant business, and even some national chains have been poking around."