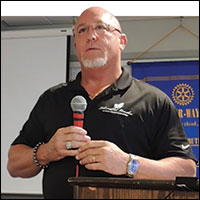 Lowther enters GOP primary race for county commission
STORY BY RAY MCNULTY (Week of September 2, 2021)
Photo of funeral home owner Thomas Lowther.

Funeral home owner Thomas Lowther, who was elected to the County Commission in 2002 but lost a re-election bid to Peter O'Bryan four years later, filed the necessary paperwork last week to run for a second term in 2022.
Lowther, 61, became the second candidate to officially enter the District 4 race, joining longtime school district employee Joann Binford. Former Sheriff Deryl Loar announced he plans to run, but, as the week began, he hadn't yet filed with the county's Supervisor of Elections Office.
O'Bryan, a four-term commissioner, announced in 2017 that he would not seek a fifth.
"I'm running for the office, not against Deryl or anyone else," said Lowther, who was the County Commission's chairman in 2005. "Deryl is a good friend of mine, but he hasn't filed yet."
Lowther, a fourth-generation county resident and 1978 graduate of Vero Beach High School, has been in the funeral business for 43 years and has owned and managed the Lowther Funeral Home and Crematory in Vero Beach since 1997.
He unsuccessfully challenged incumbent Tax Collector Carole Jean Jordan in 2012.  But in 2014, he was elected to the county's Mosquito Control District Board and was re-elected in 2018.
"My term on the Mosquito Control Board is up the same time as Peter's term on the County Commission, so the timing is right," Lowther said. "We've got the Mosquito Control District in a good place, and I feel I still have a lot to offer to this community, which has been so good to me.
"In the funeral business, you're always helping people, and that's what you do on the County Commission," he added. "And as a fourth-generation county resident, I want to be one of the voices in the decisions we make to keep this community special."
During his one term on the commission, Lowther served on numerous committees, as well as the Treasure Coast Regional Planning Council. He counts among his accomplishments the consolidation of the county's firefighters and paramedics, and the pay raises given to sheriff's deputies in 2005.
Lowther said he had been asked repeatedly by people in the community whether he would run, "but I wanted to take some time to think about it."
A week after Loar announced on the front page of Vero Beach 32963 that he planned to run for O'Bryan's commission seat, Lowther made his decision.
"I'm more at ease now that I've filed," Lowther said, "and I'm looking forward to a good campaign."
Lowther said he believes O'Bryan "has done a tremendous job" over the past 16 years, and he's encouraged by the "cohesiveness of the commission."